Hop to the Beat Dance Studio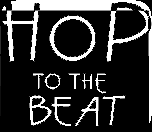 Hop to the Beat Dance Studio was established in 1995 by Tony and Aurelie Tye based in the Boston, MA area. HTTB specializes in Lindy Hop (the original style of Swing dancing), providing dance classes, dances, workshops, performances, DJing, and the annual Beantown Lindy Hop Camp. Other dance styles include Balboa, Collegiate Shag, St. Louis Shag, Blues, Authentic Jazz, Charleston, Black Bottom and Big Apple.
HTTB was created out of our passion for Lindy Hop, wanting to spread the joy of dancing. That goal continues to be the same today. The focus is on building and nurturing a community of dancers. Lessons are aimed primarily at social dancing, accessible to anyone interested in learning. We especially want everyone to have fun. Dancing is great for the mind, body and soul!