New HTTB Classes Start this Sunday/Monday
By Hop to the Beat | Sun, 09/08/2013 - 9:36pm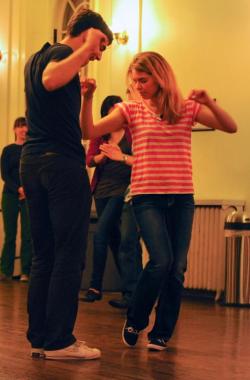 The new season of dancing is upon us! Plus September marks the 18th anniversary of Hop to the Beat. Wow! We never could have imagined back in those early days, just hoping to get some people interested in dancing Lindy Hop, that this is where we would be today!
A new 6 week class session starts Sunday nights on September 8 in Newton Lower Falls and Monday nights on September 9 at Ruggles Church (near Fenway Park). There are classes for all levels, no partners required.
Beginner Swing/Intro to Lindy Hop Level 1
Newton & Boston
Lindy Hop Level 2
Newton & Boston
Wraps, Reversals & Rhythms
Newton
Students are going back to class and you should too! If you have been wanting to learn how to dance, now is an excellent time to start.
If you are planning to attend any of these classes and have not already done so, it is very helpful if you would submit an on-line registration to speed up check-in. You can pay in advance through PayPal or at the first class by cash, check or credit card. Thanks!
Free parking available in both locations as well as near public transportation.