Uptown Swing this Saturday, November 15 with the Sax Gordon Band!
By Hop to the Beat | Wed, 11/12/2014 - 4:53am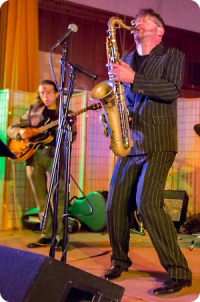 Come on out this Saturday to Uptown Swing with the entertaining and energetic Sax Gordon Band. It's always a good night when Sax Gordon is in the house!
The atmosphere is fun and friendly and beginners are very welcome! KI is a beautiful large space with a smooth wood floor and a convenient location on Harvard Street in Brookline (entrance on Williams Street). For those taking the T, it is close to both Coolidge Corner and Harvard Ave stops on the Green Line. If you want to come early for dinner or a drink, there are plenty of places nearby. Parking is free after 8:00pm (some areas after 6:00pm) and there is plenty of street parking and several town lots in the vicinity.
Bring your friends and introduce them to the joy of dancing!
Beginners welcome, no partner needed
Location: KI, 384 Harvard Street, Brookline, MA 02446 (Entrance on Williams Street!)
Band: Sax Gordon Band
Date: Saturday, November 15, 2014
Time: 8:15pm-12:00am
Swing Lesson: 8:15-9:00pm
Admission: $17 ($13 with Student ID)
Parking: Town lots and street parking available. Some free after 6:00pm, others free after 8:00pm.

If you are planning to attend, please respond on the Uptown Swing Facebook Event page. Thanks!