Beantown Camp 2012 DVD & Download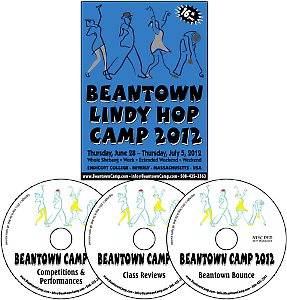 This three DVD set contains 4:51 hours of material from Beantown Lindy Hop Camp. DVD 1 includes the competitions held during the weekend plus the evening and class performances; DVD 2 includes reviews of the classes during the whole camp, both the weekend and the week; and DVD 3 contains Beantown Bounce, the instructor's show. The DVDs are 16:9 Anamorphic Widescreen.
Includes three downloadable video files, one for each DVD. Each file has named chapter markers for easy navigation in compatible players such as Apple's QuickTime Player and can be downloaded once within a year of purchase. Compatible with Mac, PC, iPad, iPhone, iPod and Apple TV. Format: H.264; 640x480 VGA (16:9 Anamorphic); 1.5 Mbps. The files are for your personal use only. Please do not send them to others or upload them to video sharing sites. Instead, direct anyone interested to purchase the DVD. There is considerable expense involved in facilitating, filming and editing the material to make the clips and that is funded by the sales. Thanks for your support.
Competitions & Performances
Soul Division
Strictly Lindy Division
Jack & Jill Novice Division
Jack & Jill Intermediate Division
Jack & Jill Advanced Division
Instructor Demo
Matt Gerdon
Daniel Newsome & Gabriella Cook
Providence Swings: 
Jennifer Stout, Adam Dau & Martha Bellows
Saturday Night Jam
Eric's Hip Hop Routine
Skye & Sylvia's Orange Track Routine
Michael & Evita's Red Track Routine
Peter & Naomi's Blue Track Routine
Skye & Nina's Green Track Routine
Mike & Laura's Yellow Track Routine
Total Running Time: 1:58
Class Reviews
Skye Humphries & Nina Gilkenson
Skye Humphries & Sylvia Sykes
Skye Humphries & Naomi Uyama
Michael Jagger & Evita Arce
William Mauvais & Maeva Truntzer
Mike Roberts & Laura Glaess
Michael Seguin & Nina Gilkenson
Peter Strom & Naomi Uyama
Peter Strom & Sylvia Sykes
Peter Strom & Skye Humphries
Nina Gilkenson & Naomi Uyama
Naomi Uyama
Sylvia Sykes & Javier Johnson
Daryl Begin & Jennifer Stout
Kenny Nelson & Heather Ballew
Daniel Newsome & Gabriella Cook
Andrew Thigpen & Karen Turman
Bobby White & Kate Hedin
Total Running Time: 2:11
Beantown Bounce
Beantown Camp Highlight Reel
Alex Abdoulaev
Evita Arce
Heather Ballew
Gabriella Cook
Megan Damon
Nina Gilkenson
Laura Glaess
Kate Hedin
Skye Humphries
Michael Jagger
David Lasagna
William Mauvais
Carl Nelson
Kenny Nelson
Daniel Newsome
Mike Roberts
Peter Strom
Jon Tigert
Maeva Truntzer
Naomi Uyama
Tara Weinstein
Bobby White
Nicole Zuckerman
Total Running Time: 0:42