HTTB classes are cancelled today, Sunday, January 20, We've been watching the weather reports and have decided to cancel class due to the potential icy conditions. It's difficult to determine for sure which areas will be impacted, however, the predicted freezing rain could be very dangerous and is expected to occur around the time for class. We'd rather have everyone safe than out driving.
The new session will start next Sunday, January 27, and be extended to end on March 10 (no classes on February 17).
Hop to the Beat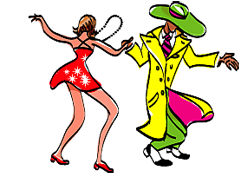 Lindy Hop originated in the dance halls of Harlem in the late 1920s and evolved with the hot Jazz and jumpin' Blues music. It's an exuberant style of Swing, mixing uptempo Charleston with slow groovin' and everything in between! Influenced by other dance styles and changes in popular music, Lindy Hop thrives today as an incredibly fun, creative partner dance mixing classic with new. Join today and become part of the friendly Lindy Hop community! There are classes for all levels. Beginners are very welcome as well as singles and couples.
Hip Hop is high energy street movement as seen in your favorite music videos by artists such as Ciara, Janet Jackson and Chris Brown to the hottest R&B, pop and Hip Hop music. Classes are great for learning some cool moves and working on rhythm and body movement. The atmosphere is relaxed and fun, appropriate for all levels.