Skye & Naomi Workshops this Weekend!
By Hop to the Beat | Wed, 11/26/2014 - 1:39am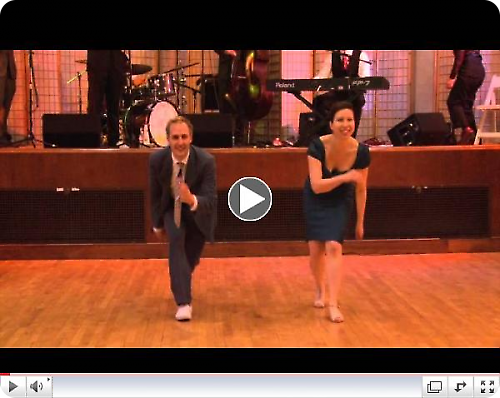 Syke Humphries & Naomi Uyama performing at Uptown Swing Dance with Gordon Webster (11/30/2013)
The Skye & Naomi weekend is almost here! There's a full schedule of activities to keep everyone dancing from Friday evening through Sunday. It will be on awesome overload with the music, classes and plenty of local and visiting dancers. A great way to celebrate so much we have to be thankful for!
Be prepared for a phenomenal weekend of workshops with Skye and Naomi! Classes are scheduled for this Friday, Saturday and Sunday, November 28-30. There is a wide mix of visiting dancers joining us for this fun weekend and we are looking forward to welcoming returnees and first timers.
Friday, November 28
A. 7:30-8:30pm Rhythm & Timing
B. 8:45-9:45pm Solo Jazz
Saturday, November 29
C. 1:00-2:00pm Beautiful Basics
D. 2:15-3:15pm Lindy Hop Vocabulary
E. 3:30-4:30pm Charleston Foundation
Sunday, November 30
F. 12:45-1:45pm Styling & Variations SOLD OUT
G. 2:00-3:00pm Fancy Footwork SOLD OUT
H. 3:15-4:15pm Lindy Hop Partner Routine, part 1 (partner needed)
I. 4:30-5:30pm Lindy Hop Partner Routine, part 2 (partner needed)
It will be possible to register at the workshops as space permits. Workshops F and G are sold out.

Workshop Location:
Lower Falls Community Center
545 Grove Street
Newton Lower Falls, MA 02462
Parking Information:
Please park in the inside parking lot only (near the entrance to the Lower Falls Community Center). The front and back parking lots belong to the Senior Center. There is plenty of free on-street parking.
Check the website for details.