Uptown Swing Dance
Boston's Home of Happy Feet!
Lindy Hop • Swing • Balboa
If you like dancing to awesome music, meeting new people, and having fun, come on out to the monthly Uptown Swing dance! Singles, couples, groups, plus all levels are very welcome. The atmosphere is relaxed and friendly. A Swing/Lindy Hop lesson is included to start the evening. KI is a beautiful spacious venue conveniently located a few blocks from Coolidge Corner.
Saturday, November 25, 2017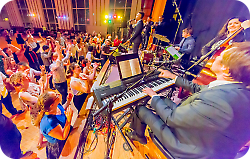 Gordon Webster has grown into one of the most sought after musicians in the Lindy Hop world today. All the tremendous praise he receives is well deserved. His music is exciting, exhilarating and joyful! Our annual dance during the Skye & Naomi weekend has come to be a major highlight of the year.
This is a not to be missed event!
Guest DJ Stan Yen
Frankie's Big Apple
Brush up on your Big Apple and join in! The more the merrier.
Admission:
$26
($22 with Student ID)
Saturday, January 13, 2018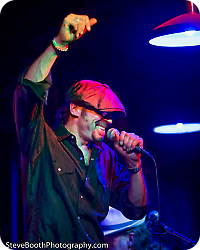 Racky Thomas is primarily a Blues man, although he continues to add to his repertoire, which has grown to be quite eclectic! He has a talent for blending his musicians on different occasions to come up with just the right mix for his audience. Racky loves playing for dancers and is great at keeping a Swing groove to everything played. There is plenty of inspiration for swinging out! His delivery has always been "soulful" and for this dance he'll be reaching into his bag of tricks to add some classic Soul selections. Racky connects with his audience and his energy is infectious. His fan base keeps growing as it is always a fun night when Racky is on board!
The evening will be starting off with a special lesson with guest instructor Samuel Coleman, joining us from NYC! People all over the world, join hands, start a Love Train as Samuel takes you on a body rocking, hip shaking, hand clapping, head moving and foot stomping journey exploring socially conscious Soul music through movement. A non-partner class that is sure to uplift your spirit as well as challenge your body and mind.
Samuel will also be playing some get-up-and-dance Soul music during the band breaks.
Grab a partner and participate in the Partner Soul Dance Contest! No advanced registration and no added fee to enter. This will be a fun competition open to anyone who would like to participate. There will be prizes!
Join the Facebook dance event.
Admission:
$18
($14 with Student ID)
Saturday, February 17, 2018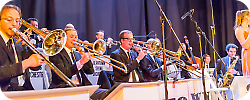 The 18-piece Beantown Swing Orchestra specializes in performing big band dance charts from the Swing Era, all transcribed from the original vintage recordings by trumpeter Danny Fratina. Some of their favorite arrangers include Fletcher Henderson and Sy Oliver, whose work was performed by Benny Goodman, Tommy Dorsey, and Jimmie Lunceford. With most of its musicians in their twenties, Beantown Swing Orchestra is a true representation of the young and energetic big bands of the 1930s.
What a special treat to have this wonderful big band back at Uptown Swing!
Guest DJ TBA.
Admission:
$18
($14 with Student ID)