Uptown Swing Dance
Boston's Home of Happy Feet!
Lindy Hop • Swing • Balboa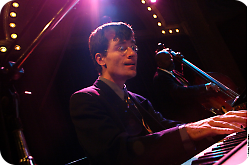 Solomon Douglas is a Jazz pianist and bandleader whose various bands have played at hundreds of exchanges, camps, workshops, and other dance events in North America, Asia, and Australia in the past 13 years, including Beantown Camp. His experience as a Swing dancer and dance instructor gives him an understanding unique among musicians of the music that Swing dancers like to dance to! In addition, Solomon has played for numerous dance events around the country with one of the nation's hot Swing bands, Glenn Crytzer and his Syncopators. His influences as a pianist include Erroll Garner, Oscar Peterson, Gene Harris, Count Basie, and Thelonious Monk. Solomon currently resides in Seattle, although he spent time in Boston while attending MIT. It is always a treat when he comes back for a visit!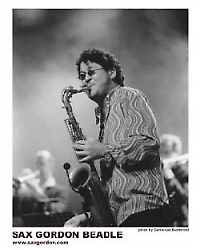 Uptown Swing is very excited to welcome back the much in-demand, globe trotting Sax Gordon! His energy and enthusiasm is contagious. Every song will make you want to get up and dance. Gordon has a wonderful charm that connects with his audience. Plus there are always surprises that he brings with a wide repertoire from high energy Blues to classic Swing. If you like to have fun and you like to dance, all the ingredients will be provided for an excellent night to bring on those happy feet!