Uptown Swing Dance
Boston's Home of Happy Feet!
Lindy Hop • Swing • Balboa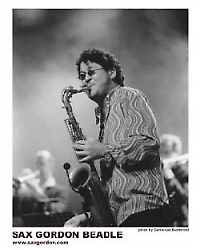 Sax Gordon will be bringing his energy and enthusiasm to light up the dance floor. Every song will make you want to get up and dance! Gordon has a wonderful charm that connects with his audience. Plus there are always surprises that he brings with a wide repertoire from high energy Blues to classic Swing. If you like to have fun and you like to dance, all the ingredients will be provided for an excellent night to bring on those happy feet!
Included will be a special Big Apple in tribute to Frankie. We'll be doing Frankie's Keep Punching version and it would be awesome to have a big circle of dancers join in.
Be sure to arrive early for a Shim Sham lesson! (Included with the dance.)
Sax Gordon Band at 9:15pm
Swing lesson at 8:15pm
Shim Sham lesson at 8:45pm
Shim Sham with the band, Frankie Manning style
Frankie's Big Apple
Admission $15 ($10 with Student ID)
Proceeds go to the Frankie Manning Foundation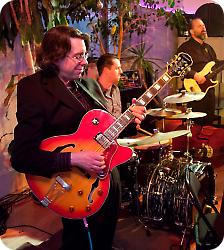 Little big band Swing, Gypsy Jazz
Led by guitarist Mike DiBari, this tight knit combo hones in on the classic guitar driven Swing of the 30's and 40's. Their sound derives from guitar stylists such as Charlie Christian, Django Reinhardt and Les Paul, while also paying tribute to Swing era greats such as Lionel Hampton and the King Cole Trio. This band has played to rave reviews and continues to get better with each appearance at Uptown Swing.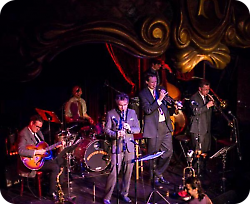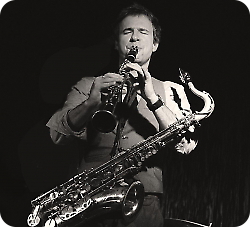 Professor Cunningham is one of the most in demand Lindy bands in the New York scene. Having been together since 2012. Woodwind virtuoso Adrian Cunningham and his 5 piece band performs the most swinging repertoire in the New Orleans tradition—from Sidney Bechet, to Fats Waller, to Fats Domino!