Uptown Swing Dance
Boston's Home of Happy Feet!
Lindy Hop • Swing • Balboa
If you like dancing to awesome music, meeting new people, and having fun, come on out to the monthly Uptown Swing dance! Singles, couples, groups, plus all levels are very welcome. The atmosphere is relaxed and friendly. A Swing/Lindy Hop lesson is included to start the evening. KI is a beautiful venue conveniently located a few blocks from Coolidge Corner.
Gordon Webster Band
Saturday, November 26, 2016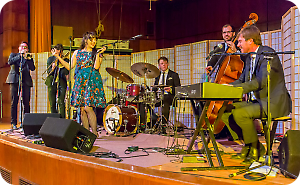 Gordon Webster has grown into one of the most sought after musicians in the Lindy Hop world today. All the tremendous praise he receives is well deserved. His music is exciting, exhilarating and joyful! Our annual dance during the Skye & Sylvia weekend has come to be a major highlight of the year.
This is a not to be missed event!
Guest DJ Andrew Selzer.
Admission:
$25
($21 with Student ID)