Uptown Swing Dance
Boston's Home of Happy Feet!
Lindy Hop • Swing • Balboa
If you like dancing to awesome music, meeting new people, and having fun, come on out to the monthly Uptown Swing dance! Singles, couples, groups, plus all levels are very welcome. The atmosphere is relaxed and friendly. A Swing/Lindy Hop lesson is included to start the evening. KI is a beautiful spacious venue conveniently located a few blocks from Coolidge Corner.
Dan Fox Foxtet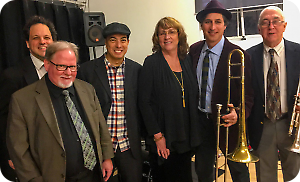 Uptown Swing is excited to welcome the Dan Fox Foxtet for their debut appearance! The Foxtet is a six piece band led by trombonist Dan Fox and comprised of some of the best local musicians who have decades of combined experience playing for swing dancers. Fox has worked as a sideman with top swing musicians such as Jonathan Stout, Adrian Cunningham, The Lowdown Stompers and Michael Gamble. Expect a rock-solid beat, an awesome vocalist and sweet, swinging horns playing tunes from the '20's, '30's and '40's at just the right tempos. We're looking forward to a wonderful night of dancing!
Guest DJ Katie Piselli.
Admission:
$18
($14 with Student ID)