Uptown Swing Dance
Boston's Home of Happy Feet!
Lindy Hop • Swing • Balboa
If you like dancing to awesome music, meeting new people, and having fun, come on out to the monthly Uptown Swing dance! Singles, couples, groups, plus all levels are very welcome. The atmosphere is relaxed and friendly. A Swing/Lindy Hop lesson is included to start the evening. KI is a beautiful spacious venue conveniently located a few blocks from Coolidge Corner.
Lloyd Kaplan and the Aristocats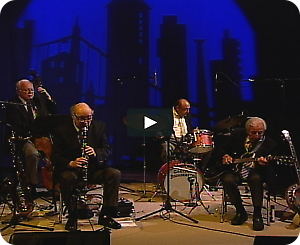 April's dance features Lloyd Kaplan & the Aristocats! Lloyd has been playing jazz for over 60 years. His music career started in the 62nd Army Band, followed by earning degrees in music and teaching. Lloyd went on to develop the jazz program of study at CCRI as an alternative for music majors and also introduced new courses in opera, 20th century music, jazz history, and the creative process in the arts, in addition to authoring his own jazz history and theory textbooks. In recognition of his accomplishments at CCRI and in the community, a Lloyd S. Kaplan Music Scholarship was established at CCRI in his honor, and he was inducted into their Hall of Fame in 2002. This year he is to be inducted into the Rhode Island Music Hall of Fame!
The Aristocats have been frequent performers at events and venues throughout Rhode Island. It was at one of these engagements that dancers discovered them, and the Aristocats have since played a variety of events for Providence Swings. This will be their first time at Uptown Swing and we're looking forward to introducing them to the Boston community. Lloyd Kaplan & the Aristocats have been playing together for some 27 years now and are still going strong!
Guest DJ Dang Mai.
Admission:
$18
($14 with Student ID)