Upcoming Events
By Hop to the Beat | Fri, 01/31/2014 - 12:49am
Thank you to everyone who came out to the first Uptown Swing Dance of 2014! It was a wonderful turnout to start off the year and some great music with Boston Swing Express.
There are many special events coming up, so get out your dance calendar and don't miss a single one!
Gordon Webster at Boston Swing Central
Any night when Gordon Webster is in town is a special one! Head on over to the Crosby Whistle Stop this Friday for an amazing night of dancing. Expect a packed house!
Boston Swing Central information.
Providence Swings 10th Anniversary Dance

Providence Swings is celebrating their 10th anniversary this Saturday, February 1st and have a jam-packed evening of good times planned.
Potluck dinner
Beginner Swing lesson
Live Music with Jessy Carolina & the Hot Mess
DJ Jesse Hanus
Solo Charleston Contest
Cake
Motown at Midnight
Now that is a celebration! All for only $10. Let's all head down to RI and join the festivities with our friends at Providence Swings!
Swing & Soul Dance at Uptown Swing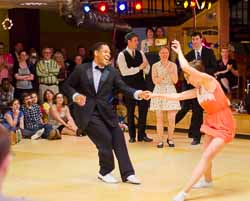 On Saturday, March 1st, Uptown Swing Dance will be having a special Swing & Soul night! The Racky Thomas Band always brings a fun night of Swing. Add some classic Soul, and guest DJ Javi Johnson, who will also teach a lesson on the Electric Slide!

Please note that this dance will be at Extreme Dancesport in Cambridge and NOT at our usual location in Brookline!
Full Uptown Swing details on website.
Boston Tea Party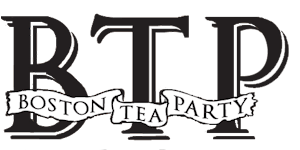 Champion level instruction with over 80 workshops. West Coast Swing, Lindy Hop and Balboa. Over 140 attendees and over 500 competitors. Dancing with the White Heat Orchestra and some of the country's top DJs. Three ballrooms and all-night social dancing. All that and more!
Where is this all happening? Right here in Newton, MA, March 20-23! This is going to be one big dance party!
Registration is open!
The Dirty Dozen Weekend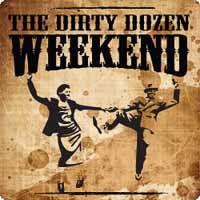 Providence Swings is at it again with another edition of The Dirty Dozen Weekend, April 25-27. Four world class instructors, Peter Strom & Naomi Uyama, Jeremy Otth & Laura Keat. Two nights of live music with Gordon Webster. One epic mash-up Jack & Jill competition. Always a super fun weekend!
Registration opens February 12th!
Dirty Dozen Weekend information.
Frankie Manning 100th Birthday Celebration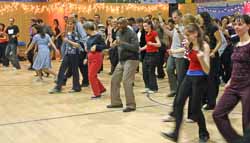 Frankie Manning leading the Shim Sham during a Hop to the Beat Dance at the Cambridge Friends School in 2005.
This May, Lindy Hoppers around the world will be celebrating Frankie Manning's 100th birthday. Uptown Swing will be hosting a local celebration on May 10th and welcome all dancers to join in!
All profits from the dance will go to the Frankie Manning Foundation.
Details to come!

Full Uptown Swing details on website.
Beantown Camp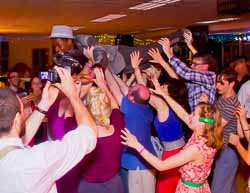 Beantown registration has been open for one week now and we couldn't be more thrilled with the response! Groups are already forming from Baltimore, Chicago, New York, Providence, Québec and Maine!
There are currently 2 spots left in Tier 3 for first time campers and less than 10 for Tier 4 of regular admission. Get'em while they last!
There is still plenty of available housing on campus, although some of the options have filled.
More exciting announcements will be coming soon!