Javier Johnson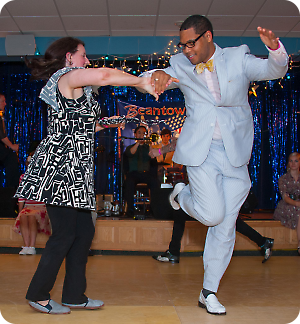 Registration Update (2/20/2015@1:15pm): The lead-follow balance has improved and is now at a good place. There are currently about 10 spaces available. Registration is once again open to both leads and follows and we accept an equal mix of each. Registration will be taken at the door if there are still spaces open.
Boston,

MA
Saturday,

February 21,

2015
3:15–4:15pm
Diggin' on James Brown
Not only a great bandleader but a superb dancer, James Brown is a fantastic inspiration. His funky songs have interesting rhythms and influences which go beyond the standard Swing/Blues formula. We'll learn to dance like James and really get down!
4:30–5:30pm
Awesome Sauce
(noun): The thing which transforms average into awesome. This class will show you how to take simple dance movement ingredients and make them into an awesome partnered dance.
8:15pm–12-00am
Uptown Swing Dance
Swing Lesson 8:15–9:00pm
The Racky Thomas Band
band information
Special Event: Swing

&

Soul Dance at Uptown Swing
Ruggles Baptist Church (near Fenway Park)
874 Beacon Street, Boston,
MA
02215
Please bring a change of clean shoes.
The weekend includes two workshops on Saturday, February 21, 2015 at Ruggles Baptist Church (near Fenway Park), Boston, MA, plus a dance with The Racky Thomas Band at Uptown Swing on Saturday night at KI, Brookline, MA. The dance includes guest DJ Javier Johnson and the Electric Slide. The workshop registration discount deadlines are Thursday, January 15, 2015 for the Early Bird rate and Monday, February 16, 2015 for the Discount rate. There is limited space so workshops may close out.
Swing

&

Soul Package

(2 workshops plus Uptown Swing)

Early Bird

Payment by

January 15, 2015

Discount

Payment by

February 16, 2015

Full

Payment after

February 16, 2015

Regular

$38

$44

$50

$32

$38

$44

Monthly Installment Plan Available
Registration: Full payment, or monthly installment plan, is required to hold your spot. Partners not needed. Same price to watch workshops. If pre-registered, please arrive at least 10 minutes before first workshop to allow time to check-in and warm-up. If not pre-registered, please arrive 15 minutes early to allow time to register. If you are not able to pre-register, submit an on-line registration form to help speed your registration on the day.
Refund Policy: There will be no refunds, however, transfers to another person will be accepted.
Shoes & Bags: Bring comfortable shoes with clean soles. Smoother soles have less traction and are better for easy turning and movement. Please change shoes on the entrance mat to help prevent outside wet, salt and grit from getting on the wood floor.