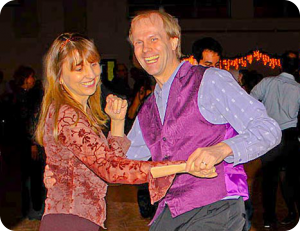 Tony and Aurelie run Hop to the Beat Dance Studio, teaching and hosting dances and events. They met as beginner dancers in Boston in 1990 and first experienced Lindy Hop in 1992. Once hooked, they were traveling both nationally and abroad to take classes with the top international Lindy Hoppers. In 1993 they began to bring some of these world class instructors to New England, which eventually led to the International Lindy Hop Workshop Series, holding two to three weekend workshops each year.
Their first Lindy Hop classes began in 1994 in Providence, RI and continued for two years. In 1995, wanting to share their passion with others, Tony and Aurelie established Hop to the Beat Dance Studio and began teaching in the Boston area, offering a full range of Lindy Hop classes to their local community. In 1997, along with Ivan and Elisabet Berggren of Sweden, they held their first annual Beantown Lindy Hop Camp, the first week long dance camp in the U.S. devoted to Lindy Hop, which has become a major international event.
Tony and Aurelie played a major role in establishing the growing Lindy Hop community in New England. They have taught ongoing classes in Mystic and Hartford, CT, Amherst, MA and at several local universities and high schools. They have been instructors at Augusta Camp's Blues and Swing Week in West Virginia and at Ryan and Jenny's Camp Savoy in England. Other workshops and dance weekends throughout the East Coast from Maine to Florida include the American Lindy Hop Championships, North Atlantic Dance Championships, Virginia State Open Swing Championships, Swing Fling, New Year's Weekend Dance Extravaganza, The Boston Tea Party, Frankie Mania! in Florida and the FAC Oktoberfest in Vermont. Aurelie has also had the incredible pleasure of assisting in weekend workshops with some of the world's best, including Steven Mitchell, Warren Heyes of the Jiving Lindy Hoppers, Eddie Janssen of the Rhythm Hot Shots and the legendary King of Swing, Frankie Manning. In addition, Tony and Aurelie are the Competition Coordinators for the International Lindy Hop Championships and Tony has emceed for the World Lindy Hop Championships, Swing Fling, as well as Beantown.
While performing with The Kamikaze Jitterbugs, Tony and Aurelie toured in Asia with the Artie Shaw Orchestra and appeared with the Boston Pops Orchestra in the nationally-televised 4th of July Esplanade Concert. At the 1994 American Swing Dance Championships they were members of the winning team, the Transatlantic Lindy Hoppers. They have been featured twice in Chronicle, a Massachusetts based TV program, have made numerous cable TV appearances, and were the instructors for the Friday Swing Night at the Roxy in Boston during its one year run, one of the largest Swing venues in the country.
Tony and Aurelie and the Hop to the Beat Dancers have been featured at benefits, concerts, outdoor fairs, corporate functions, dances, weddings and private parties. Some of the bands they have appeared with include Casey MacGill and the Blue Four, The Cab Calloway Orchestra, Artie Shaw Orchestra, White Heat Swing Orchestra, Boston Pops Orchestra, Beantown Swing Orchestra, Girls from Mars, Winiker Swing Orchestra, Bellevue Cadillac, Royal Crown Revue, Squirrel Nut Zippers, Eight to the Bar, Blues Jumpers, Four Piece Suit and the Blue Suede Boppers.
Shows in which they have appeared include Ryan & Jenny's Camp Savoy Cabaret in Guildford, England, DanceTime's Winter Xtravaganza at Bedford High School in Bedford, Elvis-Loving You at the Dance Complex in Cambridge, Tap Dance By Design, A Musical Revue at The Garden Arts Center in New London, CT, and Stage Door Canteen 1940's USO Show at the IBEW Hall in Waltham.