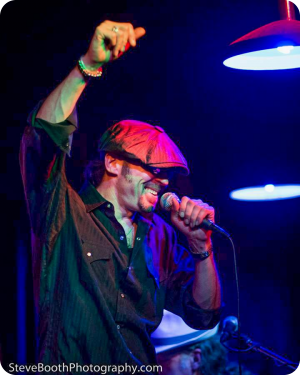 Racky Thomas is primarily a Blues man, although he continues to add to his repertoire, which has grown to be quite eclectic! He has a talent for blending his musicians on different occasions to come up with just the right mix for his audience. Racky loves playing for dancers and is great at keeping a Swing groove to everything played. There is plenty of inspiration for swinging out! His delivery has always been "soulful" and for this dance he'll be reaching into his bag of tricks to add some classic Soul selections. Racky connects with his audience and his energy is infectious. His fan base keeps growing as it is always a fun night when Racky is on board!
DJing band breaks will be the wonderful Mike Legenthal, making her Uptown Swing debut! She'll also be handling the Soul contest.
The evening will be starting off with a special lesson with guest instructor Samuel Coleman, joining us from NYC! People all over the world, join hands, start a Love Train as Samuel takes you on a body rocking, hip shaking, hand clapping, head moving and foot stomping journey exploring socially conscious Soul music through movement. A non-partner class that is sure to uplift your spirit as well as challenge your body and mind.
Find a partner and participate in the Partner Soul Dance Contest! No advanced registration and no added fee to enter. This will be a fun competition open to anyone who would like to participate. There will be prizes!
Join the Facebook dance event.
Admission:
$18
($14 with Student

ID

)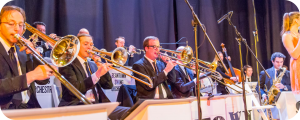 The 18-piece Beantown Swing Orchestra specializes in performing big band dance charts from the Swing Era, all transcribed from the original vintage recordings by trumpeter Danny Fratina. Some of their favorite arrangers include Fletcher Henderson and Sy Oliver, whose work was performed by Benny Goodman, Tommy Dorsey, and Jimmie Lunceford. With most of its musicians in their twenties, Beantown Swing Orchestra is a true representation of the young and energetic big bands of the 1930s.
What a special treat to have this wonderful big band back at Uptown Swing!
In addition to a fabulous night dancing to the Beantown Swing Orchestra, also featured will be a performance with the Lil' Rhody Hoppers from Providence Swings!
Guest DJ TBA.
Admission:
$18
($14 with Student

ID

)

Uptown Swing Celebrates Frankie Manning!
May is Frankie Month and Lindy Hoppers worldwide will be celebrating this very special man. There isn't a better example than Frankie Manning to remind us of the joy and fun we have dancing! If you don't know much about him, be sure to check out his bio. Of course the night would not be complete without a Shim Sham, Frankie style!
Profits from this dance will be contributed to the Beantown Ambassador Program.
The Frankie Manning Foundation was established with Frankie's passing to carry on his legacy. We've been honored to have Beantown Camp as part of the Ambassador Program, which provides scholarships to support the growth and development of new ambassadors of Lindy Hop. Recipients are primarily selected from African-American communities throughout the USA as well as areas around the world where Lindy Hop is in a very early stage of development.
The experience is often life-changing, and it is wonderful to watch them grow as individuals and dancers and begin to help teach future generations. Starting in 2014, Beantown began collecting funds to help bring past ambassadors back to camp as many do not have the means to do so on their own. There is no charge to attend camp, however funds are needed to cover housing, meals and travel.
From the Frankie Manning Foundation:
Frankie Manning had a long association with Beantown Camp. He would be so pleased to see the amazing job that Beantown has done in creating a vibrant and welcoming atmosphere for African American Lindy Hoppers. No camp has done more to increase African American participation and inclusion in the world swing dance community.
Music this month will be provided by guest DJs Kevin Lin and Marta Pedrero! We'll be dancing to Frankie's favorites as well as music from the Savoy Ballroom in Harlem. This means Count Basie, Chick Webb, Lionel Hampton, Duke Ellington, Erskine Hawkins, and more. You know it will be swingin'!
Kevin loves swing dancing, swing music, and loves listening to the music at all waking hours of the day. He has DJ'ed at local venues around Boston such as The MIT Lindy Hop Society, Monday Night Practice, and Boston Swing Central. Some of his favorite bands include Duke Ellington, Benny Goodman, and Chick Webb. Kevin's goal is to keep the energy high and the dancing fun, and he firmly believes in the saying… "It don't mean a thing, if it ain't got that swing!"
Marta has been Djing weekly for the last 5 years in her local scene in Barcelona, as well as in international events such as Swim Out Costa Brava and Boston Tea Party. Music is so important when it comes to Lindy Hop; paying attention to the dancers, understanding their mood and generating a good environment are things that Marta ensures while she DJs. If you enjoy dancing to Count Basie, Duke Ellington and Ella Fitzgerald do not miss it because they are always on her list!
Marta started dancing at the age of 4 with contemporary and ballet. She has always loved Jazz music, dancing and singing it! Unexpectedly, 5 years ago, she discovered Lindy Hop in the streets of Barcelona—the city where she was born and raised. Ever since, she has been teaching and improving her dancing, learning other disciplines such as Blues, Balboa, Shag… she is a swing fanatic! Dancing with a partner was a new experience that captivated her and you will always see her dancing with a big smile on her face—"I forget about the rest of the world and I can only listen to the music and enjoy that unique moment with my partner".
Swing lesson: 8:15pm, included with the dance
Dancing: 9:00pm-12:00am
Performance with Hop to the Beat!
Shim Sham, Frankie Style!
Big Apple, the Frankie version of course!
Frankie Doo!
All profits go to the Beantown Ambassadors Program
Admission: $12 ($8 with Student ID)