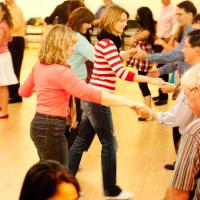 Our first 6 week session of 2012 starts on Sunday, January 8 in Newton Lower Falls and on Monday, January 9 in Boston. Both locations include a class in Beginner Swing/Intro to Lindy Hop Level 1, appropriate for anyone starting out as well as those with some experience who are working on building a solid foundation of dance skills. Six count basics will be covered along with a variety of fun steps to build your repertoire and get you out on the dance floor!
Lindy Hop Level 2 is also offered in both locations. This class is for more intermediate level Swing dancers, although no prior Lindy Hop experience is required. Eight and six count basics will be mixed along with a variety of classic Lindy Hop, newer variations, and a focus on partnering, technique and style.
For intermediate to advanced Lindy Hoppers, in Newton on Sundays we have a new class, Partner Charleston, Flashy Variations and Transitions. It will include some cool variations on classic Charleston while also focusing on some fancy transitions. These classes will be challenging, energetic and of course a ton of fun!
If you have any friends interested in getting into dancing, lessons are a great way to get started. Please pass on the info!
If you are planning to take class, please submit your registration.
Registration is open—Complete class information and registration.