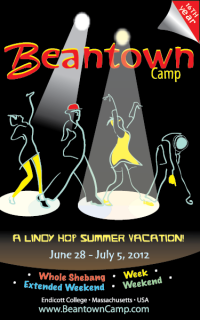 Plans for Beantown Camp 2012 are well under way! This will be #16 and we know it is going to be special! This year camp runs from June 28 to July 5th and we will be back on the beautiful Endicott College campus on the shore just north of Boston. Although the general format will be similar to last year, there are some schedule and activity changes and additions to ensure maximum fun and awesomeness!
Some new features for 2012:
New registration format. It is now possible to register for Beantown separate from the college options for housing and meals.
The last night is July 4th and plans are in the works to go out with a bang. This is the ideal year to stay for the full week!
A brand new dorm option providing for the first time the most requested choice - individual rooms with private bathrooms and

AC

!
Although the website is updated for 2012, the registration section is being reworked, staff additions are in the process of being confirmed, and the schedule will certainly have some tweaking as well as class details to be added.
Registration will be opening in February (date TBA). Stay tuned for information on early bird pricing options. Make your plans for starting out the summer at Beantown Camp! You will be glad you did.