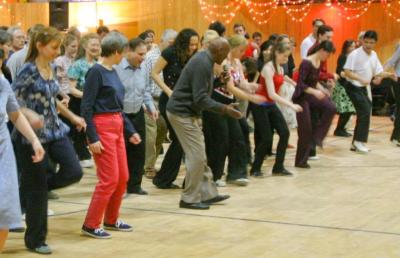 F
rankie Manning leading Shim Sham at the Hop to the Beat Dance, Cambridge Friends School, February 2005
A reminder to HTTB students, we do not have classes this Sunday and Monday, however, there is still plenty of dancing available this weekend for everyone.

Not only is this a holiday weekend, this Saturday, May 26 marks what would have been Frankie Manning's 98th birthday. It is hard to believe that 3 years have passed since we lost this most special person. The dances planned for this weekend will be celebrating his life and wonderful spirit.

This Friday at Boston Swing Central we'll be teaching the Shim Sham at the pre-dance lesson. Later that evening we'll all dance the Shim Sham in our best Frankie Manning tradition! Music for the evening will be provided by special guest DJ Gina Helfrich, featuring many of Frankie's favorites. Check BSC site for all the details.

On Saturday night Blues Café will be hosting the Boilermaker Jazz Band, one of the most popular bands out on the national scene making a rare New England appearance! Here will be your second chance to learn the Shim Sham, this time with Abby Cohen, plus there will be a 2nd chance to dance another Shim Sham for Frankie! Check BC site for all the details.