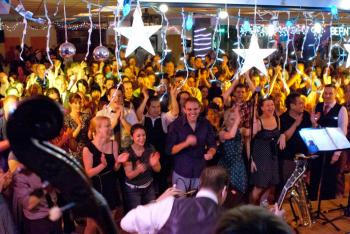 The countdown to Beantown Camp opening day continues! Only 2 weeks to go.
For everyone planning to attend who has not yet completed a registration, it would be a huge help if you get your registration and full payment in ASAP! There are packets to assemble and the college has rooms to prepare. We want your complete camp experience to be smooth sailing from the moment you arrive and the more we can do in advance, the easier for us to make that happen:-)
Competitions

If you are registered and would like to add a competition, now would be a great time to do that! Got soul? Why not sign up for the Soul division? That does sound like fun!

2 Special Classes Added with Bobby White!

Attending the Old School: In Search of the Spirit of the Old Timers.
A talk full of stories, video footage, and one dancer's journey to find the spirit of the original jitterbugs.

Partnership: How Best to Avoid Throwing Things.
A class specifically geared towards working with a partner off of the dance floor. Class will consist of both discussion and dancing. Partners recommended, but not mandatory.

Camp Forum

Be sure to check out the camp forum for ride sharing and other information. This is a great way to communicate with other campers and maybe organize a door-to-door airport shuttle or request a ride from a local. For our local campers, we would really appreciate if you check the forum to see if there are any visiting campers you can help out. It is wonderful when we all work together to make this an amazing experience for everyone:-)
Join us for our 16th year! Camp runs from June 28 to July 5 with multiple registration options. If you've never done the full week, this will be the year to do it. There is so much that you will not want to miss!