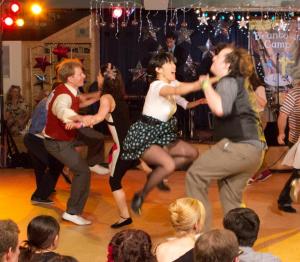 The countdown to Beantown Camp opening day is on. Only 3 weeks to go. Reserve your spot today!
Included among the many awesome activities scheduled for Beantown are some fun competitions for all levels during the weekend. It is still possible to sign up! The competitions always come with a fantastic, supportive audience. Divisions include a nice mix of Novice, Intermediate and Advanced J&Js, Strictly, Solo Charleston and Soul! The competitions are scheduled so that we have loads of social dance time with excellent live music on both Friday and Saturday night. (That would be Baby Soda and the Campus Five in case you have forgotten!)
We are honored to have so many wonderful events sponsoring the competitions and providing prizes for each division as well as a couple of special awards. They are all truly awesome! Be sure to check each one out for your future event plans!
International Lindy Hop Championships
Boston Tea Party
Lindy Focus
The Dirty Dozen Weekend
Dirty Water Lindy

&

Blues Exchange
Hart

&

Soul Weekend
Canadian Swing Championships
Beantown is very fortunate to have support from our local and neighboring sponsors and friends. We appreciate every one of them!
Dom V and the Swing Out Big Band
DanceNet
Boston Swing Dance Network
Boston Swing Central
Swing City
Providence Swings
Connecticut Swing Dance Society
Hartford Underground
Vermont Swings
Got2Lindy
Check out more info on all our sponsors.
Join us for our 17th year - it's going to be phenomenal! (Really, seriously, it is!) Camp runs from June 27 to July 4 with multiple registration options. If you've never done the full week, this will be the year to do it. There is so much that you will not want to miss!