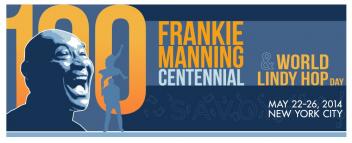 Frankie 100 is a huge celebration honoring the joy, spirit and vision of the one and only Frankie Manning. This very special event will be held in NYC over Memorial Day weekend in 2014 and will be attended by Lindy Hoppers from all over the world. Check out the information today!
Registration is organized in 3 waves depending on geographic location. Wave 1 covering Asia and Australia has sold out!
The Boston area is in Wave 3, which opens at 5:00pm this Thursday, September 19. It will close at 1:00am or sooner if it sells out. (Count on it selling out!) If you want to attend this incredible event, be ready to register this Thursday! Do it!