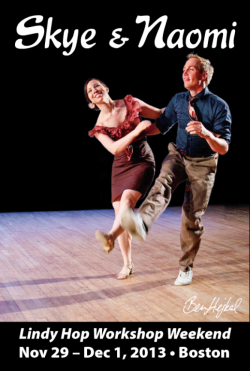 ThGet your early bird prices for the Skye & Naomi weekend! You have only two more weeks to register at the cheapest prices, so do it now!
Skye, Naomi and the equally fabulous Gordon Webster will be returning November 29-December 1 for their 6th annual weekend of fabulous classes, music and fun!
There is a full schedule of workshops with classes for all levels. All classes will be held at the Newton Lower Falls location. Saturday's Uptown Swing Dance will be at KI in Brookline.
The early bird discount date is October 30. If you register by October 28, you can also take advantage of a 2 part installment plan to make your payments online.
If you are planning to attend, please respond on the Skye & Naomi Facebook Event page. Thanks!
Check the website for all details and registration.