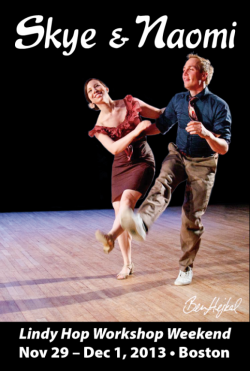 There is still one week left to register for the Skye & Naomi workshops at the early bird prices, expiring on Wednesday, October 30! Don't miss the cheapest prices - register now!
You do not need to do the full weekend as workshops are a la carte. The price is only $15 per workshop with even greater savings for 4 or more. To get this great deal, a completed registration with payment must be received by the early bird due date. Sending a check postmarked by October 30 will also qualify.
Skye & Naomi are highly sought out instructors and it is our turn to have them back in Boston. There are a variety of classes to choose from with great stuff for all levels. It is going to be an excellent weekend! All classes will be taking place in Newton Lower Falls, November 29-December 1. Saturday's Uptown Swing dance will be at KI in Brookline.
The early bird discount date is October 30. If you register by October 28, you can also take advantage of a 2 part installment plan to make your payments online.
If you are planning to attend, please respond on the Skye & Naomi Facebook Event page. Thanks!