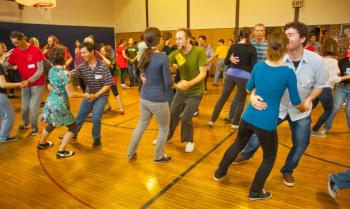 The Skye Humphries & Naomi Uyama workshops are coming soon on November 29-December 1! This is the last week to register at discount prices, expiring next Wednesday, November 20!
Complete workshop schedule and registration.

It will be possible to register after November 20 and at the door at full prices.
Workshops will be held at Lower Falls Community Center in Newton. The most beginner classes are scheduled for Saturday afternoon. Prior Lindy Hop experience is needed for the Friday evening and Sunday afternoon classes (except for the Solo Jazz Routine which is open to all levels). There will be something for everyone and a variety of topics covered including fundamentals, variations, slowing things down, solo Jazz and Charleston.
There are extra followers in most of the classes, although balances are currently not far off.
For those really looking for a challenge, you will enjoy the partner routine class to end the afternoon on Sunday. If you don't have a partner, you may be able to find one at the workshops.
Skye and Naomi are two of the must popular instructors on the scene today and they are looking forward to being back in Boston!
If you are planning to attend, please respond on the Skye & Naomi Facebook Event page. Thanks!
Register today to get the discount price!
Local Hosts Needed for Workshop Weekend
Please contact us if you will be able to provide housing for a visiting Lindy Hopper! It would be especially awesome if you can help with transportation as navigating the area can be tricky for out-of-towners. If you can provide transportation and not housing, that may be helpful as well. It would be very much appreciated! Let us know at info@hoptothebeat.com. Thanks!