Do you want a dance vacation? Do you NEED a dance vacation? Time to start making your plans for Beantown 2014!
Beantown Overview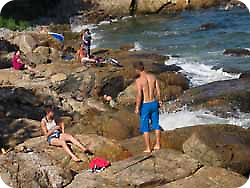 Shut off the stresses of the outside world, relax in a beautiful shoreline setting and enjoy immersing yourself in dance camp. Outstanding instructors, incredible bands, a wide range of Lindy Hoppers from near and far. Many class options, inspiring performances, lots of social dancing, karaoke, Beantown's Got Talent, fun competitions, camp social, camp BBQ, Soul Dance Party, tons of fun. Comfortable housing options, high quality meals, private beaches, excellent facilities. Meet a living legend of Lindy Hop, make new friends, join a music jam, swim in the ocean, play volleyball by the beach. Feel the Lindy Love! In a nutshell, that's what you get at Beantown!
Beantown runs from June 26 to July 3. Do the week to get the full experience! Most campers stay on campus, which is highly recommended.
Registration News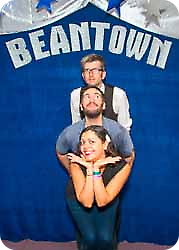 Registration is going live on Thursday, January 23 at 8:00pm! Here's what to look out for:
New Camp Registration Discounts
Special Tiered Early Bird Discounts
International Discounts
Big news about the Endicott pricing for on-campus housing and meals! Prices are going DOWN! Endicott has renegotiated their contract with their food service and are passing the savings along to us. When does that ever happen? We are grateful to have such a wonderful venue!
Details will be available soon! Stay tuned!