Beantown and we are still busy with camp follow-up and sorting through literally thousands of photos. This year's camp had some extra challenges which kept us extremely busy. Callahan renovations were not complete, which meant no dining hall and no main dance venue. Plus registration was up, which was exciting and wonderful, but added to the unknowns as to if everything was going to work. We made our best judgments as we planned out the week, knowing that sometimes you have to actually experience something to know what you are dealing with. In addition, this year's Beantown was a tribute to Frankie and there were several plans in the works that were not easily coming together but that I wanted so much to complete.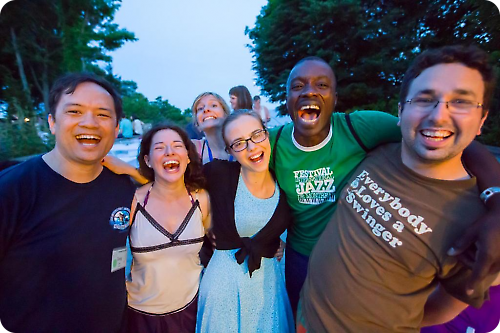 One way or another, we made it to opening day and then experienced the absolutely most wonderful Beantown ever! Sure there were some logistical issues that could use improvement, and we were able to see ways to do some things better. However, when it comes down to everything that counts the most, we couldn't have been happier. Mostly what we saw were smiling, happy, joyous faces!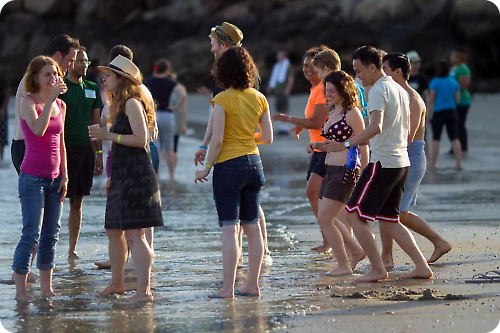 We had put a bunch of stuff on the schedule and day after day, each one was so positive and wonderful and just how you hope it would be. We saw happy instructors, happy bands, happy campers! What more could you want? Even the weather was just about perfect! It was an emotional roller coaster ride that turned into a very special and amazing week that will carry us for a long time to come.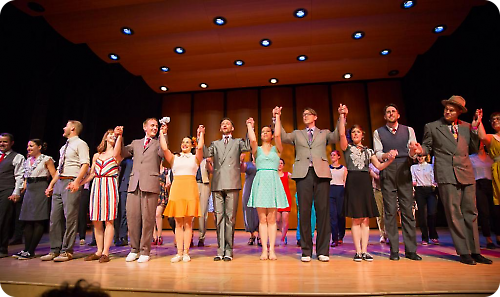 There are so many people to thank including of course our amazing staff of instructors, our outstanding bands, DJs, work crew and helpers. Every single one contributed to making Beantown the spectacular week that it was. This year something that stood out more than ever was the enthusiasm in which both staff and campers wanted to help, wanted to participate and wanted to add. There are some that we want to thank individually.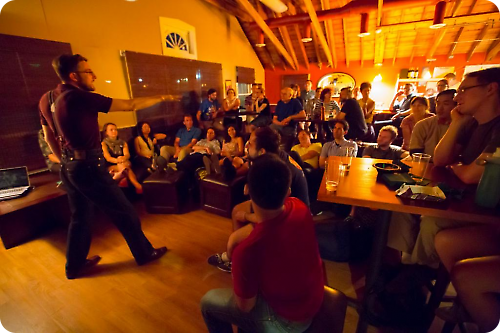 Bobby White for offering his two entertaining and educational talks.
Dan Newsome for volunteering to host a

DJ

 summit.
Allen Kerr for not only being head

DJ

, but also handling

DJ

duties at many of our special events throughout the week.
Tom Hagar for heading up the photo crew and getting himself just about everywhere.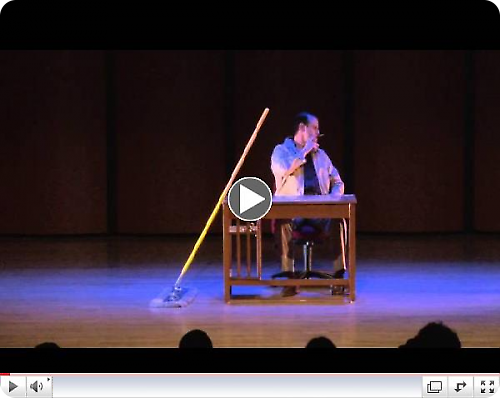 Michael

&

Evita for directing Beantown Bounce, plus everyone who performed and worked on the production. What a special treat to have such a first class show at Beantown and we truly appreciate all the hard work and thought that went into it.
Dan Repsch

&

Jenny Sowden for taking their task of teaching the Blues Mini-Track and expanding it into hosting a Swing

&

Blues Party and a Blues practice. Your spirit and enthusiasm are much appreciated.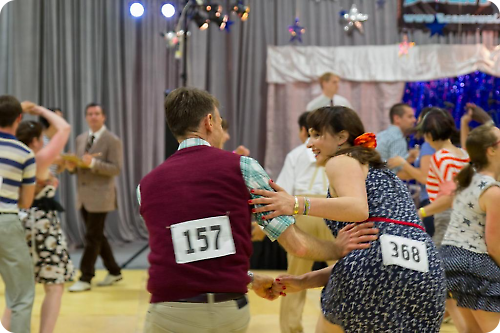 Jenna Applegarth and her lovely assistant Jon Tigert for superbly handling our largest competitions ever.
Jon Tigert and his lovely assistant Jenna Applegarth for putting together the most amazing Beantown's Got Talent! Beantown proved that it does have talent and plenty of it! Plus of course these two also hosted another fun night of Beantown Karaoke:-)
Kenny Nelson for running the always challenging track auditions and all that goes with it. A thankless job for sure, except by us:-)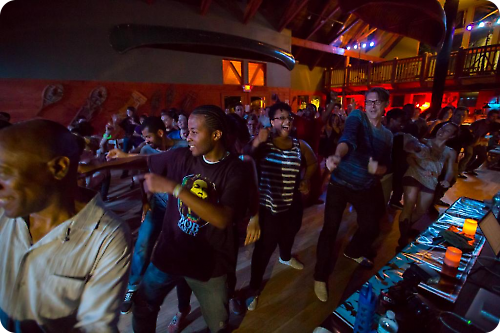 Peter Strom for adding so much to Beantown year after year! What is more fun than the Soul Party? Such a big highlight and somehow even better than ever. Special this year was the Frankie Presentation. It was just the right mix of everything and near and dear to our hearts:-)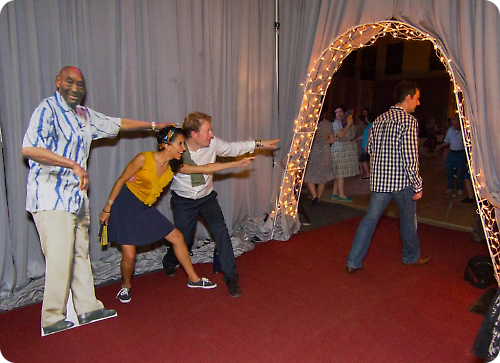 Usually camp is set up a few days in advance. Due to the construction of our dance "room", we had to do it the night before, something we would definitely not recommend! We would not have managed without the help of Martin Fréchette, Joe Toth, Rachelle Gaudet, Suzanne Gaudet, Steve & Deb Carmel, Betty Stone, Anne Orens, Denyce Zabrecky and Benson Wong. Michael Strickland and Xander Norman tackled the dance rooms through the late hours of the night and then completed all the sound along with Maduka Chidebelu-Eze on Thursday. Rebecca Strickland worked the auditions, competitions and filled in for me on countless tasks throughout the week. Each one stepped up when we needed them most, and we truly appreciate all of them!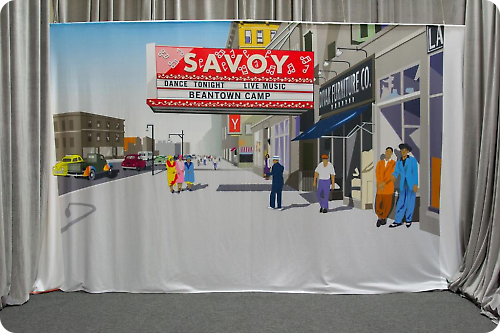 Special thanks go out to our good friend Don Fish who created the illustration for our amazing photo booth. I reached out to him as time was running out and help was needed. He jumped right in and we ended up with something so much more than we could envision. Don also has done many of our wonderful t-shirt and banner designs. Don was a student in our very first regular classes that we taught in Providence many years ago. We are so fortunate to still have him in our lives.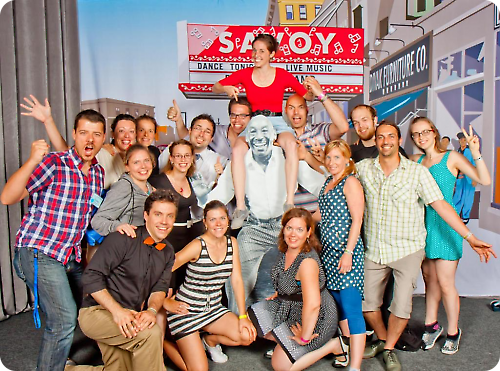 Most new campers come based on recommendations from instructors, classmates, friends and acquaintances. Thank you so much to every one of you who helped make this our best attended Beantown ever! We couldn't possibly do this without you.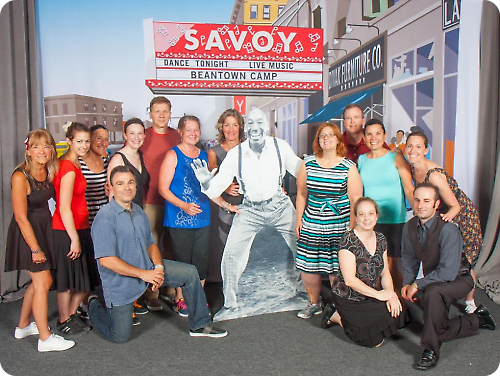 We especially want to thank Carl Linder, Karrie Willis, Lunou Samson Poirot, Jasmin Hains, Katleen Rousseau, Daryl Begin, Jennifer Stout, Javier Johnson, Cynthia Simonds and Samuel Coleman who all put in the extra effort to organize and encourage large groups of mostly new campers.
In addition we have to thank the Canadian dancers of Nova Scotia and New Brunswick who just kept registering, as well as all NYC area dancers for your tremendous support as you keep multiplying year after year! When I mentioned at camp how much you all helped me to get through some overwhelming moments, I was not kidding!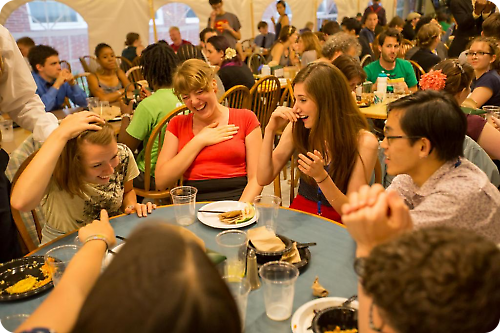 It is not just the beautiful setting and facilities at Endicott College that we love. Most important is working with Patrick Cornelissen and the Endicott College staff. They are the best and we can't imagine running Beantown without them. Paul Belski and the food service crew did a tremendous job through difficult conditions, working from a portable kitchen. Our group filled the temporary dining hall and we were told that ours was the only group that could have managed with our size as we are the only ones who will all share the tables. Yay Lindy Hoppers!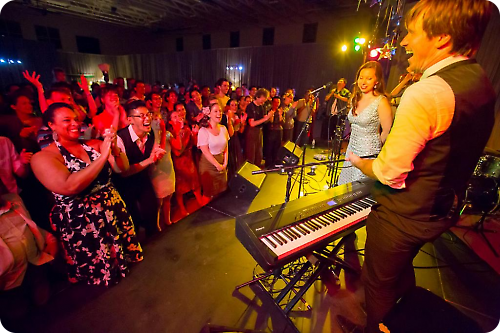 Last but not least, thank you to all Beantown campers for bringing your wonderful selves to camp this year! The positive, supportive and happy environment at camp was due to all of you. Thank you for your participation, your energy, your friendliness and your smiles. The spirit of Frankie was alive and well at Beantown this year and we couldn't be more proud.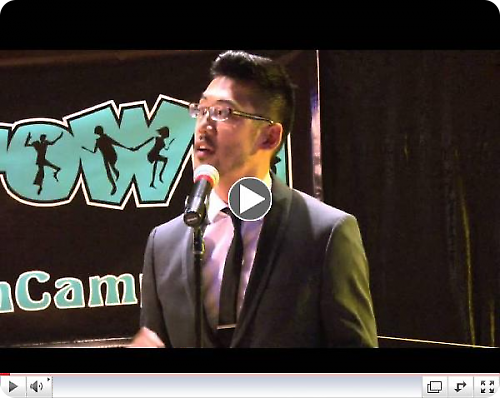 We wish you all the best and look forward to doing it all again in 2015!
Sincerely,
Aurelie & Tony