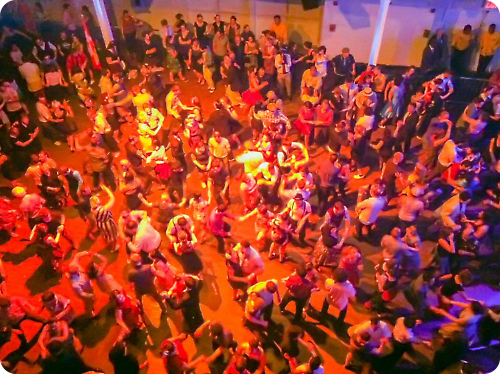 Another year gone by and here we are in 2015! The past year was full of challenges, amazing high points and the joy that comes with including dance as a way of life. Most of all we are grateful for all the wonderful people we have met, friends we've made, and times we've shared with our incredible worldwide dance community.
As the year started, we had to deal with a lot of snow, always seeming to fall just in time to disrupt our monthly Uptown Swing dance. We did make up for it at Beantown Camp in June when we had the most beautiful weather ever for our entire week at Endicott College.
All year long we celebrated Frankie Manning's 100th birthday. The highlight was the celebration in NYC, Frankie 100, bringing together Lindy Hoppers from 47 countries and over 2000 in attendance. It was an absolutely spectacular event, more than we could have imagined. Plus a phenomenal reunion, meeting up with people we had met back in our earliest days and a reminder of so many fabulous experiences we have had over the years. Plus of course immersing in everything Frankie! It was so uplifting, celebrating the life and legacy of a truly exceptional individual.
The first half of the year was largely occupied with preparing for Beantown Camp. Every year brings its challenges, and this one was no exception, especially figuring out how to compensate with the loss of our main dance space and dining hall due to major renovations underway. In addition, we were filled with plans to complete for our own week long tribute to Frankie. One way or another, and with help from some of our wonderful friends, it all worked out to be an absolutely glorious week, embodying all the heart, soul and joy that makes it all worthwhile.

The year closed out with another fantastic Skye-Naomi-Gordon, weekend, somehow seeming even better than ever. We couldn't have ended our dance year on a higher note, full of friends, fun, inspiration, spirit and sheer bliss!
The new year provides a chance to re-energize and we're looking forward to the great adventures that 2015 will bring.