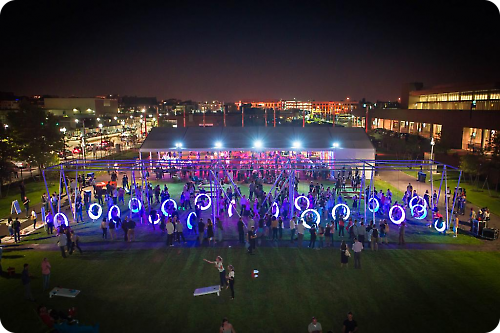 The Lawn on D is an outdoor interactive space designed to bring together different communities, audiences and area residents for innovative programming and events. It is located on D Street in South Boston and is owned and operated by the Massachusetts Convention Center Authority.
The grand opening weekend kicks off this Friday, May 15, with activities including a dance party to live Swing bands, including the always entertaining Sax Gordon, lessons, including Hop to the Beat, food trucks, lawn games, plus Lincoln Tavern serving summer eats, beer and wine under The Tent. Also featured is the return of Höweler + Yoon's Swing Time, with this year's swings having a new eco-twist using solar energy to illuminate their magnificent lights.
We do not yet have details on all of the specifics, however, a very fun night is in store. Plus it's free!
Check the website for more info.