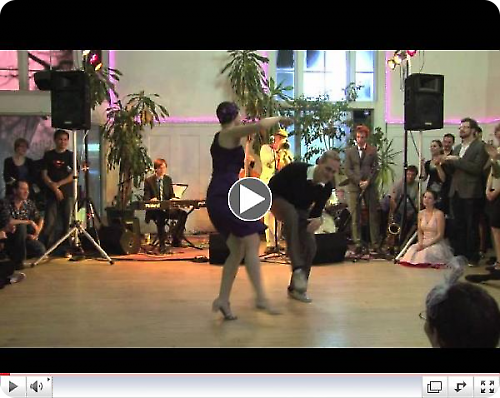 Skye Humphries

&

Naomi Uyama performing at Uptown Swing Dance at Boston Tai Chi with the Gordon Webster Band (12/13/2011)
The Skye Humphries & Naomi Uyama workshops are coming soon on November 27-29! This is the last week to register at discount prices, expiring Wednesday, November 18!
It will be possible to register after November 18 and at the door at full prices, space permitting.
Workshops will be held at Lower Falls Community Center in Newton. The most beginner classes are scheduled for Saturday afternoon. Prior Lindy Hop experience is needed for the Friday evening and Sunday afternoon classes (except for the Solo Jazz which is open to all levels). There will be something for everyone and a variety of topics covered including fundamentals, variations, rhythm, footwork, solo Jazz and Charleston.
Balances are currently fairly good for all classes.
For those really looking for a challenge, you will enjoy the partner routine class to end the afternoon on Sunday. If you don't have a partner, you may be able to find one at the workshops.
Skye and Naomi are two of the must popular instructors on the scene today and they are looking forward to being back in Boston!

Check the website for details.