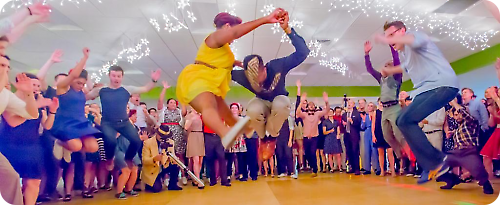 Hope you've been having a fantastic summer! We've been having good weather here in the Boston area, getting us out to enjoy the great outdoors. Time has flown since camp ended, although there's been a lot of "Beantown" still going on at our house, wrapping things up for 2016.
Planning starts early each year, and with it being our 20th, we wanted it to be extra special. Somehow, no matter how last minute things ended up, our plans all came together. However, that is only part of the story. The atmosphere at camp was so fantastic from the very start to the very finish. The happy faces, the heartfelt moments and the sheer joy was what it all comes down to.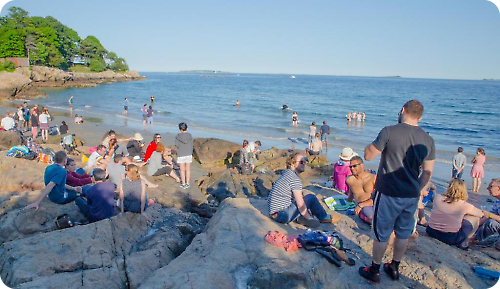 Our vision for Beantown from the beginning, which we still feel today, is for a week of complete immersion in dance, learning, challenge, inspiration, positivity, camaraderie and a whole lot of fun. Being on the Endicott campus has enabled us to do so much, with the fantastic facilities, the beautiful beaches, and the perfect setting. There's the convenience of living on campus, sharing meals, creating our own little community. The weekend can be super busy, but then there is the rest of the week, allowing a chance for other activities, more time for classes, social dancing and hanging with fellow Beantowners. It adds so much to the whole experience.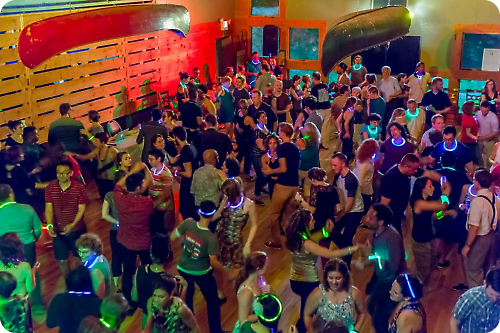 When we started, we didn't think about the future and how long we'd be going. It is amazing that it has been 20 years! Over time there have been a lot of changes, and each year we take a fresh look to make plans for the next one. As for 2016, Beantown was pretty much everything we had hoped it would be. We loved the amazing spirit on campus, we loved seeing so much participation, and we loved all the smiles. Beantown would never be what it is without the help and contributions of so many people, some behind-the-scenes and some front and center.
First there is our long time team of friends who help with setting up camp and preparing for opening day, as well as handling duties during the week. They are the go-to people in time of need and we don't know how we could do Beantown without them. Rachelle Gaudet, Suzanne Gaudet, Joe Toth, Martin Frechette, Meredith Patneaude, Denyce Zabrecky, Benson Wong, Betty Stone and Margaret Marks, thanks for always being willing to help us with the craziness.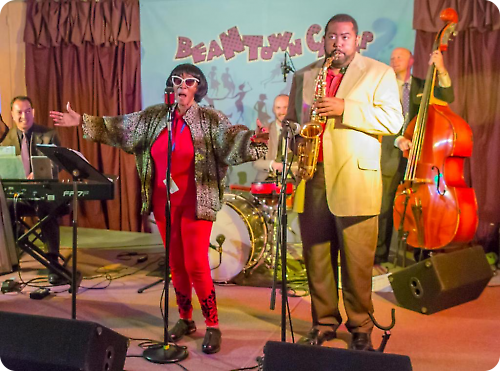 Next up we would like to thank Beantown's very special guest, the legendary Queen of Swing, Norma Miller! This year she was everywhere. She sang with the bands, she danced with Nathan's tap group, she entertained us with her stories.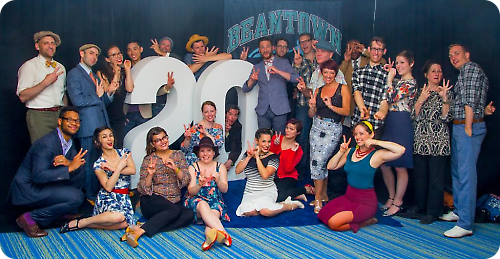 Classes are a major component of Beantown and therefore require an excellent cast of instructors. However, the role of instructors is much greater than teaching. Beantown is a week full of activities and the teachers are involved in so many of them. We are a team, all working together to create the best experience possible. That requires not only talented dancers and teachers, but just as important, fantastic people.
Many of our instructors have been with us a long time, and we could easily single out each one, however, we want to mention a few who have been a big part of all that Beantown has become.
Peter Strom is so much Beantown. Over the years he's given us many laughs, wonderful presentations, Beantown Bounce finales, as well as hosting the late night Soul Party. There is something special about those Beantown Soul Parties, bringing everyone together, letting loose and just having fun!
Bobby White always brings something great with his "bar talks" and presentations. One of the best ever was this year's presentation with Norma. We especially enjoyed the clip of Norma that she got so excited about. Maybe something she's never seen before.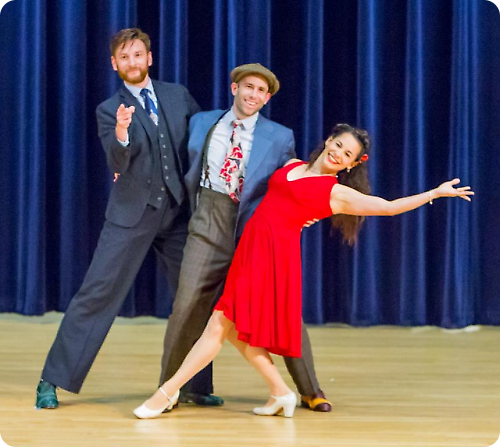 Evita Arce has been doing the majority of organizing Beantown Bounce the last few years and it is always a highlight of the week. This year's overflowed with talent, one fantastic number after another. Thank you so much to everyone who performed and gave us such a spectacular show. The creativity and how everything gets pulled together in so little time never ceases to amaze.
Jon Tigert has kind of grown up during his years at Beantown and he even shares his birthday with us. We call him the "entertainment director" because pretty much everything Jon does is entertaining. We appreciate all of it, most especially his constant smile, exuberant attitude and willingness to jump into anything we ask him to.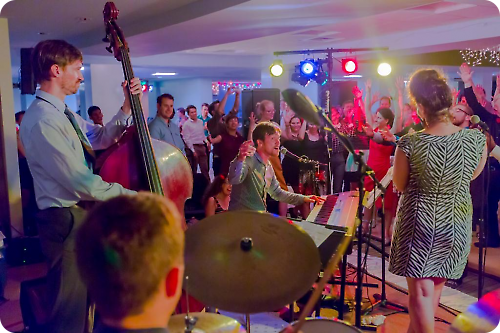 Another big component of Beantown is the social dancing and for that you need fantastic music. We certainly had that, starting off the weekend with Taryn Newborne and The Real Deal, making their Beantown debut. It's always a treat to have Jonathan Stout & his Campus Five, and this year was extra wonderful with Hilary Alexander back with the band. As for many years, the perfect way to finish off the week with Gordon Webster & Friends. With a line-up like this to count on, you know you can't go wrong!
The DJ crew rounded out the music and did an excellent job. Special thanks to Allen Kerr. As Head DJ at Beantown, there are a lot of extra activities he was involved with that are not usually part of the job. No matter what we asked, Allen has always delivered and is a pleasure to have on the team.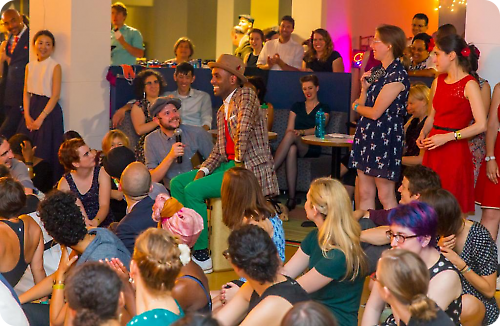 Emcees are key to an event as they often set the tone and create atmosphere. Besides Jon, Edgar Herwick is often on the mic, adding so much to everything he does. Besides his easygoing style, what we appreciate so much about Edgar is how he takes what you ask him and always pulls it off in just the right way. Thanks also to Jasmin Hains for handling the meal time announcements. Jasmin may worry that his English isn't perfect, but what he doesn't realize is that announcements are more enjoyable with a lovely French accent!
We've worked with Judy Pritchett with the Frankie Manning Foundation Ambassador program, but this year was the first time she actually attended Beantown. It was a big pleasure having Judy on campus all week, plus she gave two presentations, one on Frankie Manning and one on the Big Apple. Both were wonderful and included things even long timers like us haven't seen before.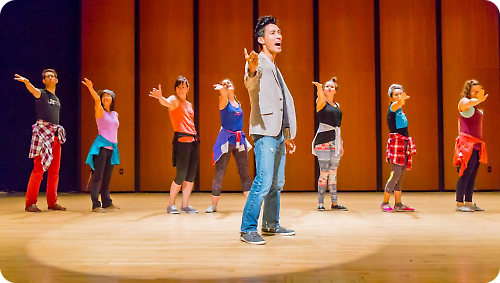 There's a lot going on with a week of Beantown and all the planning in the world is not enough without a fantastic team to make it happen.
Michael Strickland came early to set up all the sound systems and handle the bands for the first half of the week. We have a lot of rooms, so that means a lot to set up. Maduka Chidebelu-Eze handled the 2nd half of the week, with special activities to set up along with the live music and breaking down all the equipment.
Jason Volk was our lead support this year, doing some of many things, including helping Michael and Maduka, some staff pick-ups, setting up for different activities and breaking camp. One of those jobs that requires being ready whenever something is needed.
Davis Thurber is our head videographer, with help from Chris Hugo. This year Davis was especially quick with getting videos out. As an example, the Wednesday late afternoon class performances were up on YouTube before dinner! Because of the great job he did while at camp, we were able to get the class review online downloads and DVDs done in record time this year.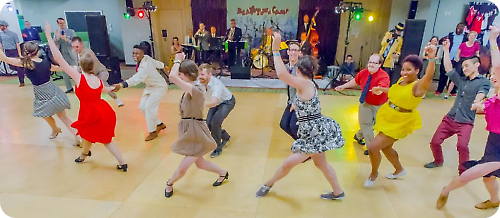 Jenna Applegarth is in charge of both the competitions and the auditions/track placements. Despite that they are both happening during the same time period, she handles everything with calm and control. Jenna's job is extra challenging at Beantown due to the different options for attending, adding multi layers into the track placement process. Thanks also to the judges and everyone on Jenna's crew for making these challenging activities run so smoothly.
Steve Berman and Charlie Wieprecht were our main drivers this year. This is a job that most people at camp wouldn't notice, although to us, it is an amazing help to have the right people handling it. We have a lot of staff to get to and from the campus. The job may start out straightforward, but then there are shifted travel plans, delayed or cancelled flights and unexpected last minute additions. Enough to drive a person crazy! These guys couldn't have been more patient and gracious. Thanks also to everyone else who filled in where we needed help.
Tom Hagar and Robert Hatcher handled photography for this year and it's been great seeing the photos rolling out on Facebook since Beantown. They did a great job of capturing all the fun we had! Thanks also to Byron Hon. He should just be on the crew as he must devote just as much time to all the wonderful photos he takes.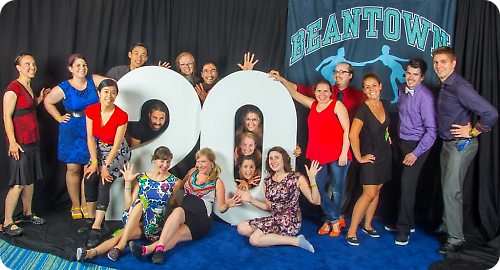 Our good friend Don Fish once again did a fantastic job with the graphics for the t-shirts and hoodies, photo booth banner, buttons and wherever else we used his images. We give him vague requests and he puts them together far better than we ever could imagine. Thanks also to Steve Carmel for making the giant 20 for the photo booth, far surpassing what we envisioned. As hoped, Beantown Campers made good use of them in the photos.
There are so many others who helped out during the week and we truly appreciate each one of you! Tara Weinstein hosting the open practices, Lori Michelle doing the stretch classes, Taryn Newborne and the rest of the check-in crew, the Beantown Café crew, Martin's roadie/water crew, and everyone else who played a part in making our week happen.
One other important thank you we want to be sure to include is to Sarah Sullivan and Nicole Zuckerman for doing their very important presentation on the "Culture of Consent". This was an excellent program that included information, discussion and exercises. We hope that in the future we can have something like this again as we need to be aware in our community of what exists, how to handle situations and how best to create an environment that allows everyone to feel safe, supported and welcomed.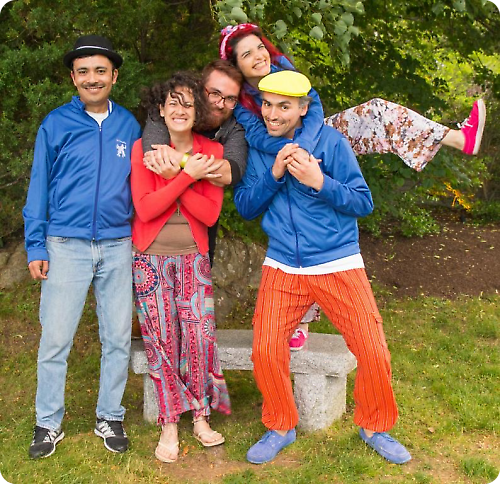 As to our Beantown campers from near and far, you truly are the best! We feel so grateful to have this opportunity to bring together so many from all over the U.S. and beyond to share in the world of Lindy Hop that we love so much. It was fantastic to reconnect with friends we've not seen for awhile as well as to welcome all the first-timers. Thank you to all those who recommended Beantown to friends and students and to all the group organizers. So much of what makes Beantown so special and unique has to do with the energy, spirit, friendliness and joy that comes from all those who attend. It can be daunting each year to get to opening day, however, it is seeing everyone put so much of themselves into the week which makes it so worthwhile. This is what we hope for and thank you all so much for making it happen!
See you at Beantown 2017, June 22-29!
Camp details |

Join camp event |

|