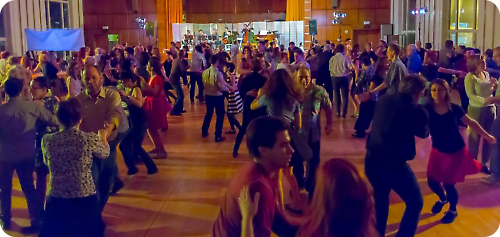 It's time already to start thinking about the next session of classes. The new schedule and registration for both our Boston and Newton locations are now up! We've got a nice mix of classes for all levels. Level 1 will have a focus on musicality and topics will include mixing 6 and 8 counts. For more experienced dancers, on Sundays we have a new class offering a mixed bag of moves, reflecting the wide variety of possibilities in Lindy Hop. Continuing on Mondays will be part 2 of the routine class. In this session, the focus will be on formation, teamwork and getting performance-ready.
Monday Classes: February 27 to April 3
Ruggles Baptist Church
874 Beacon Street, Boston (near Fenway Park)
Sunday Classes: March 5 to April 9
545 Grove Street, Newton Lower Falls
Class sessions are 6 weeks. No partner needed (except for the routine class) as classes will rotate. Couples and singles are welcome.
Lindy Hop Level 1/Beginner Swing (Boston

&

Newton)
Featured Topics for this session: musicality, mixing 6s

&

8s
This class gets a mix of brand new dancers as well as continuing students. There are several different sessions at this level, each with new content, which can be taken in any order. Students are recommended to stay at this level long enough both to cover many of the important elements of Lindy Hop as well as to feel very comfortable with what's taught before moving to the next level. The aim is to work on developing a solid foundation of dance skills while building a repertoire of moves for social dancing. Discount after 2 full sessions. No experience required.
Lindy Hop Variety Pack (Newton)
Something very fun about Lindy Hop is the wide and unlimited opportunity for variations in your dancing. This session will feature a mixed bag of moves with an emphasis on partner connection to create them. Included will be rebounds in swing outs, a horse and cart into a medley of moves, and a classic Charleston with a twisty ending. Previous Lindy Hop experience is required, including knowledge of 8 count basics. (For intermediate and up.)
Lindy Hop/Jazz Routine, Part 2 (Boston)
We've learned the routine and are moving to the next stage. The focus will be on performance, teamwork, formation and details, lots of details! This session requires attending with a partner. There will be opportunities to perform after the session is completed and that is what we'll be aiming for. Performing requires practicing! Be prepared to practice as needed on your own time and in group rehearsals. It will take some commitment, and be challenging, but mostly it will be

FUN

!