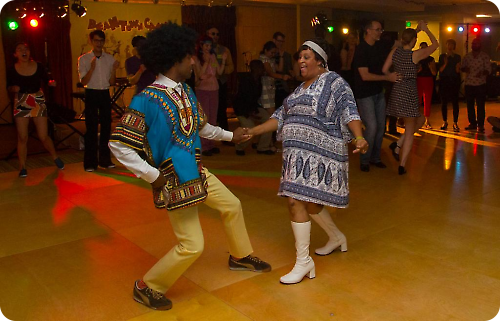 Join us for the next Uptown Swing dance, featuring a special Swing & Soul event. Racky Thomas will be back to help you get your groove on. Guest DJ Sarah Elise is on board to handle the band breaks. Samuel Coleman will be teaching a special Soul dance class. Here's your chance to let loose with some really fun music that makes you want to dance!
On Saturday, February 18, Uptown Swing will be hosting a special Swing & Soul Dance at KI in Brookline. The dance will feature the fabulous Racky Thomas Band and guest DJ Sarah Elise, bringing a great mix of fun get-up-and-dance music.
The evening will be starting off with a special lesson with guest instructor Samuel Coleman, joining us from NYC! Stay tuned for details on the lesson. It will be open to all and included with admission.
Grab a partner and participate in the Soul Competition! No advanced registration and no added fee to enter. This will be a fun competition open to anyone who would like to participate. There will be prizes!