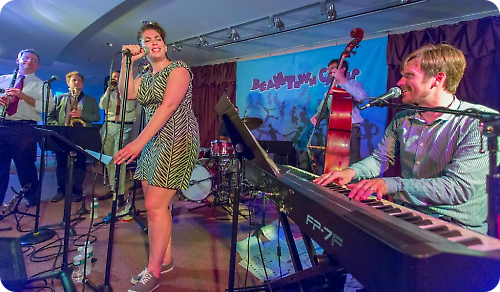 Gordon Webster has two new albums in the works and an Indiegogo Campaign to help make them happen!
Many of us in the Boston area have known Gordon for a long time and watched him grow into one of the most in demand musicians on the worldwide Lindy scene. Not only is he a superb musician and bandleader, he's a super nice guy. We are fortunate to have him play in our area multiple times a year. He's been a long time Beantown regular, and this year for the first time he's on the instructor lineup, teaching some musicality classes. In more recent years, his band has been closing out the week with two fabulous nights of music. You always want to go out on a high note, and with Gordon, you know it will be magical!

Now is our chance to show Gordon some Lindy love and support! He has an Indiegogo campaign to raise the much needed funds to complete the production of his albums. Plus there are perks! Be sure to check it out, and if you would like to contribute, there are only 10 days left!