It is still possible to join our new session of Lindy Hop classes which just started last Sunday and Monday. This will be our last session of 2011!
Join Second Week of New Session Lindy Hop/Swing Classes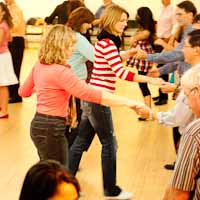 Classes for this session include Beginner Swing/Intro to Lindy Hop Level 1 and Lindy Hop Level 2. These classes are offered both on Sunday evenings at the Newton Lower Falls Community Center and on Monday evenings at Ruggles Baptist Church in Boston.
The Boston Level 1 class needs leaders while both the Boston Level 2 and Newton Level 1 could use 1 or 2 more followers!
Also on Sunday in Newton, we have a new class for intermediate to advanced Lindy Hoppers called Rhythm Variations. This class will be excellent for anyone wanting to incorporate footwork variations into your dancing and who enjoy experimenting and playing with new possibilities.
This class needs more followers!
Please let us know if you are planning on joining any of the classes or submit an on-line registration. Thanks!
Full class details and registration.
Early Bird Price for Skye
&

Naomi Lindy Hop Workshop Weekend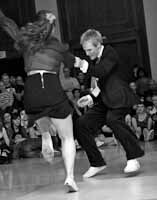 There is still one week left to register for the Skye and Naomi workshops at the early bird prices, expiring on Wednesday, November 2nd!
You do not need to do the full weekend as workshops are a la carte. The price is only $15 per workshop with even greater savings for 4 or more. To get this great deal, a completed registration with payment must be received by the early bird due date. Sending a check postmarked by November 2 will also qualify.
Skye and Naomi are highly sought out instructors and we are looking forward to having them back here in the Boston area. There are a variety of classes to choose from with great stuff for all levels! It is going to be an awesome weekend. All classes will be taking place in Newton Lower Falls on December 2-4.
Please note that the times for Saturday have been changed slightly from what was originally scheduled.
Complete workshop schedule and registration.
Don't delay - register today!
Happy dancing,
Aurelie & Tony