It's fall, it's winter, it's spring, it's dark! We can't keep up. Let's just enjoy it all one way or another:-)
Skye Humphries
&

Naomi Uyama Lindy Hop Weekend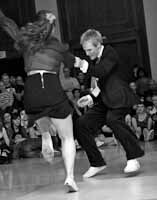 This is shaping up to be an excellent weekend! We already have dancers coming from 8 states and Canada. (Hey NH, we need you!) Discount prices are now in effect until November 23. (Full price afterwards.) There are a variety of classes to choose from with great stuff for all levels. The weekend is December 2-4 and all workshops will be at the Lower Falls Community Center in Newton Lower Falls. Also included on Saturday night is our monthly Uptown Swing dance in Brookline featuring the always incredible Gordon Webster and the amazingly talented Naomi Uyama on vocals. Now that is a can't miss combination!
Skye and Naomi are highly sought out instructors and we are happy for this opportunity to have them back in the Boston area. We are looking forward to welcoming our out-of-town visitors and to a fun and inspirational weekend!
Complete workshop schedule and registration.
November Uptown Swing Dance with Sax Gordon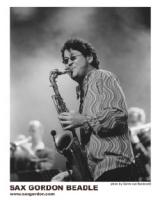 Our next Uptown Swing dance is on Saturday, November 19 welcoming back the incredibly awesome Sax Gordon! Gordon is a highly sought out sax player and we always feel fortunate when we can get him on our dance schedule. He plays with an exuberant spirit that seems to take over the room. You will need to dance! If you have never had the opportunity to dance to Gordon and his band, be sure to check him out. You will be glad you did:-)
Also included this month is a Lindy Hop performance with Hop to the Beat! We'll be Flying Home. We would love for you to come and cheer us on:-)
Uptown Swing is a monthly dance which is held at Brookline Tai Chi, conveniently located directly across from the Washington Square T stop on Beacon Street. It is a wonderful venue with an excellent wood floor for dancing. Street parking is free after 8:00pm. Beginners are very welcome and there is a lesson included at the beginning of the evening to get everyone started. You do not need to have a partner to attend. The music will be excellent for Lindy Hop, Swing, Balboa and even some Blues. Bring your friends and introduce them to a fun night of dancing!
Uptown Swing Dance information.
BSDN

Pre-25th Anniversary Battle of the Bands
This year the Boston Swing Dance Network will be celebrating 25 years of bringing live music to the Boston Swing dance community! This Saturday, November 12, BSDN will be hosting a special Pre-25th Anniversary dance featuring a Battle of the Bands with The Love Dogs and Eight to the Bar. In addition, we are excited to be performing with a group of Hop to the Beat dancers!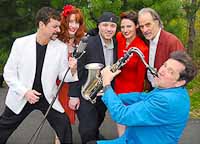 We hope everyone will come out to this very special dance and to thank Roger Weiss for bringing us live music for 25 years!
Boston Swing Dance Network dance information.
Happy dancing,
Aurelie & Tony