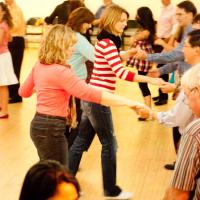 As always, it is still possible to join our new session of classes in the second week. Classes for this session include Beginner Swing/Intro to Lindy Hop Level 1 and Lindy Hop Level 2. These classes are offered both on Sunday evenings at the Newton Lower Falls Community Center and on Monday evenings at Ruggles Baptist Church in Boston.
It is great to have so many of the Level 1 students back this session, although we again need leaders, especially the Monday Boston class! The Level 2 classes are close to even and there is room to join.
Also on Sunday in Newton, we are teaching The Lindy Chorus, a fun partner routine choreographed by the man himself, the one and only Frankie Manning! This class also needs leaders!
Free parking available in both locations as well as near public transportation.
Registration is open. Check the website for more information.