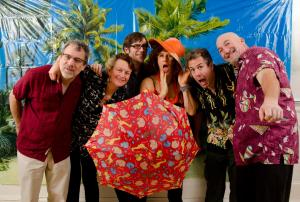 We are only hosting one dance this summer and it is this weekend! Come on out for a fun night of dancing!
Join us at Uptown Swing this Saturday, July 21 with The Love Dogs! It's always a good night when these Dogs are playing and appropriate for all levels of dancers.
Uptown Swing is held at Brookline Tai Chi, which is our wonderful venue conveniently located directly across from the Washington Square T stop on Beacon Street. There's AC, a fabulous floor for dancing, plus free street parking after 8:00pm. Beginners are very welcome and there is a lesson included at the beginning of the evening to get everyone started. You do not need to have a partner to attend. The music will be excellent for Lindy Hop, Swing, Balboa and even some Blues. Bring your friends and introduce them to a fun night!
Beginners welcome, no partner needed
Location: Brookline Tai Chi, 1615 Beacon Street, Brookline, MA 02446
Band: The Love Dogs
Date: Saturday, July 21, 2012
Time: 8:15pm-12:00am
Swing Lesson: 8:15-9:00pm
Admission: $15 ($10 with Student ID)