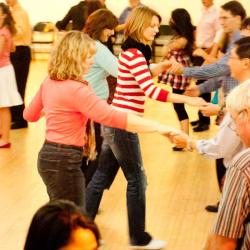 September marks a new season of dancing and a great time to get back into class after the summer break. It is also an excellent time for those just getting started. We are always striving to bring new people into the dance community and classes are a great first step. Most of our new students come from recommendations and we really appreciate all of your help to keep our community growing and thriving!
Our new class session starts Sunday nights on September 9 in Newton Lower Falls and Monday nights on September 10 at Ruggles Church  in Boston (near Fenway Park). There are classes for all levels, no partners required.
Here's what's up for the next 6 week session:
Beginner Swing/Intro to Lindy Hop Level 1: For those who are brand new to Swing dancing, this is the place to start! Also ideal for those with some experience who would like to brush up on skills and build a repertoire of fun moves. Six count basics will be covered along with a different selection of steps each session providing a foundation of the basic elements of Lindy Hop such as rhythm, style and partner connection. There are 7 different sessions at this level building a good base for social dancing. Level 1 classes may be taken in any order. It is recommended that students stay at this level long enough to feel very comfortable with the material taught before moving to Level 2. Discount after 2 sessions. No experience or partner required. This class meets in both Newton and Boston.
Lindy Hop Level 2: Level 2 focuses on the core fundamentals of Lindy Hop, including a mix of 8 and 6 count basics. Emphasis is on technique, partner connection, musicality and building skills. No previous Lindy Hop experience required, although must competently social dance any style of triple-step Swing. There are 8 different sessions at this level which continually change over time and can be taken in any order. Each session includes a range of classic Charleston to newer variations, all with a touch of flash! Discount after 2 sessions. No partner required. This class meets in both Newton and Boston.
Interesting, Fun and Fancy Turns: This new class features a variety of moves from open and from closed which include the element of turning for follows, leads and sometimes both. We'll be moving in and out, twisting and turning and passing while working on connecting with flow, stretch and momentum. (All that good stuff!) For experienced Lindy Hop dancers with solid basics, no partner required. This class meets on Sundays in Newton.