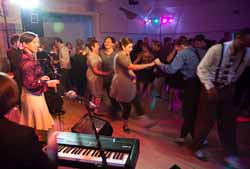 Big news for Uptown Swing! We are moving to a beautiful ballroom owned by Congregation Kehillath Israel (KI) in Brookline starting this September. It is a wonderful space with a very large wood floor, AC and conveniently located just a few blocks from Coolidge Corner on Harvard St. On street parking is available as well as several town lots nearby. Public transportation is very accessible with 2 nearby T stations and a bus that stops out front.
Please bare with us as our schedule will be a bit erratic for the fall. Also note that our October dance will be at a different venue in Cambridge. Starting in January we will be back to our usual slot with most dances on the 3rd Saturday of the month at our new home at KI.
Uptown Swing is friendly and fun with a live band each month. A lesson is included which starts at 8:15pm and the dance at 9:00pm. All levels are welcome and no partners are needed.
September 15: Solomon Douglas Quintet featuring Alison Dreyfuss
October 13: Boston Swing Express (special location)
November 3: Racky Thomas Band
December 1: Gordon Webster Band featuring Naomi Uyama