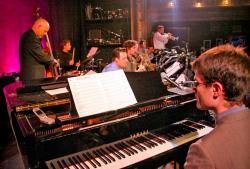 Our next monthly Uptown Swing dance is coming up in Brookline on Saturday, September 15 with the Solomon Douglas Quintet, featuring Alison Dreyfuss on vocals. Solomon makes his home in Seattle, but can be found traveling the country playing for Swing and Lindy Hop dancers. Most recently he played for us on the final night of Beantown Camp with Glenn Crytzer's band. The music will be great for Lindy Hop, Swing, Balboa and even some Blues. This will be an excellent night to bring your friends and introduce them to the joy of dancing! The pre-dance lesson is included.
We weren't really planning to move or looking to move, but hey, sometimes stuff happens! On the plus side, we found this beautiful large ballroom with an excellent wood floor only about a mile from our previous location. Our new venue is at KI (Congregation Kehillath Israel), located just a few blocks from Coolidge Corner in Brookline. There are stops nearby for both the B and C branches of the Green Line, and a bus which stops right out front. Plus there is street parking and several town lots nearby, free after 8:00pm.
We are excited for this new chapter and hope you will join us as we celebrate our first dance!