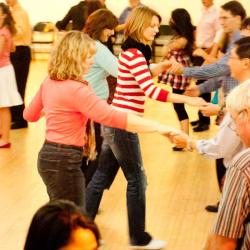 Newton Parks & Recreation has informed us that the floor is being done this weekend and we cannot hold Sunday classes.
This moves our 2nd week to Sunday, September 23 and the session will be extended to go through October 21. Monday classes are not effected.
Classes for this session include Beginner Swing/Intro to Lindy Hop Level 1 and Lindy Hop Level 2. These classes are offered both on Sunday evenings at the Newton Lower Falls Community Center and on Monday evenings at Ruggles Baptist Church in Boston.
Both of the Level 1 classes need leaders, as does the Sunday Level 2 class. Another follower for the Monday Level 2 would be nice:-)
Also on Sunday in Newton, we have a new class for experienced Lindy Hoppers on Interesting, Fun and Fancy Turns. This was a very fun class last Sunday and is close to even. There is room to joinl
Free parking available in both locations as well as near public transportation.