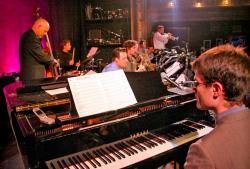 We are excited for our first Uptown Swing dance this Saturday, September 15 at our new venue. This place is gorgeous with an excellent wood floor. It is BIG, so there will be plenty of room for your dancing pleasure:-) This month features a special treat with the Solomon Douglas Quintet and Alison Dreyfuss on vocals. We are thrilled to have Solomon back in Massachusetts. He makes his home in Seattle these days but he does get around the country quite a bit playing for dancers with his own and other bands. Please spread the word and help us to celebrate both our new season of dancing and the debut of our new venue.

Our new awesome space is at KI (Congregation Kehillath Israel), located just a few blocks from Coolidge Corner in Brookline and only a mile from our former location. There are stations nearby for both the B and C branches of the Green Line, and a bus which stops right out front. Plus there is street parking and several town lots nearby, free after 8:00pm. If you want to come early for dinner, there are plenty of good choices in walking distance on Harvard St and in Coolidge Corner.
We are excited for this new chapter and hope you will join us as we celebrate our first dance!