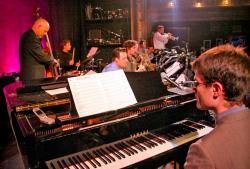 Thank you so much to everyone who joined us at Uptown Swing on Saturday at our new venue! What a wonderful night filled with great music, people and fun!
We are off to an excellent start at our beautiful new venue at KI (Congregation Kehillath Israel), located just a few blocks from Coolidge Corner in Brookline. Feedback is very positive and everyone seemed to enjoy the large space and the awesome floor. Solomon and his band did a great job of keeping the dance floor filled all night.
Next month we will be at another new location just for October. This one is at the Extreme Dancesport studio in the Fresh Pond area of Cambridge. Beautiful new sprung wood floor, large room, AC and tons of nearby parking. It is a short walk from the Alewife T. Uptown Swing will be on the 2nd Saturday for October and feature Boston Swing Express.
November takes us back to our new home at KI for another fun night with Racky Thomas.