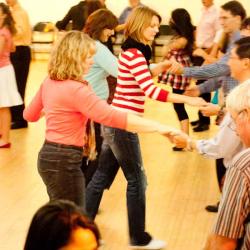 Our next 6 week session starts on Monday, October 22 in Boston at Ruggles Baptist Church. This is a great location on Beacon Street right at the Brookline border.
Classes for this session include a new Beginner Swing/Intro to Lindy Hop Level 1, appropriate for anyone starting out as well as those with some experience who are working on building a solid foundation of dance skills. Six count basics will be covered along with a variety of fun steps to build your repertoire and get you out on the dance floor!
Also this session is a new Lindy Hop Level 2. This class is for more intermediate level Swing dancers, although no prior Lindy Hop experience is required to join. Eight and six count basics will be mixed along with a variety of classic Lindy Hop, newer variations, and a focus on partnering, technique and style.
There are half hour practices scheduled after each of these classes and everyone is encouraged to stay. Those in Level 2 are very welcome to come early and join in for the earlier practice time.
Due to some scheduling complications, we will not be holding a second fall Newton class session. Sunday classes will resume in January.
If you have any friends interested in dancing, lessons are a great way to get started. Please pass on the info!
If you are planning to take class, please submit your registration.