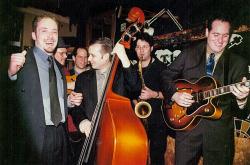 Thank you to everyone who made their way on Saturday to Uptown Swing! Boston Swing Express was on fire like we've not seen before. They kept us moving, that's for sure:-) Plus thanks to Stan & July, the TinkerBalus instructors and attendees for joining us and bringing your wonderful Balboa energy! Thanks also to Extreme Dancesport for opening their beautiful new space to us with their awesome sprung floor, just perfect for the evening. So much fun!
Our next dance will be on Saturday, November 3 with the always awesome Racky Thomas Band, one of our favorites! If you want to feel happy and great all over, this is the band for you. They just make you want to get out on the dance floor with a joy that keeps us coming back for more. Their style reflects the Chicago Blues and it swings!
We will be at our new venue, KI, located in Brookline just a few blocks from Coolidge Corner. We had a ton of positive comments after our September dance at KI and are looking forward to being back there in November.