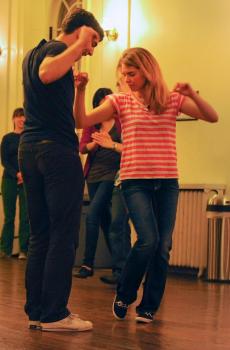 Due to Monday's class cancellation with Sandy making its way through the area, our 2nd week has been moved to Monday, November 5. The session will be extended to go through December 3 and there is still room if you would like to attend!
Classes include Beginner Swing/Intro to Lindy Hop Level 1 and Lindy Hop Level 2. This session we are only on Monday evenings at Ruggles Baptist Church in Boston. (Sunday classes in Newton will resume in January.) Practice time is included with each class. There are some changes in the class balances since last week. Level 1 has a couple extra followers and Level 2 is now about even.
Free parking available as well as near public transportation.
For full details and registration.