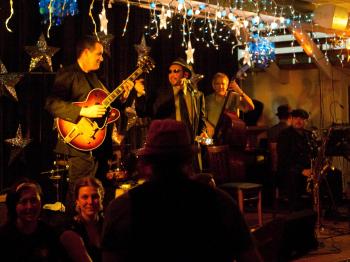 Our next Uptown Swing dance is this Saturday, November 3 with the Racky Thomas Band, an Uptown Swing favorite! We are really looking forward to having Racky back as it is always a good night with him on board. This band will get you out on the dance floor with that joy that keeps us coming back for more. Their style reflects the Chicago Blues and it swings!
This will be our second dance at our new venue, KI (Congregation Kehillath Israel), located just a few blocks from Coolidge Corner in Brookline and only a mile from our former location. This place is gorgeous with an excellent wood floor. It is BIG, so there will be plenty of room for your dancing pleasure. Bring your friends!
There are T stations nearby for both the B and C branches of the Green Line, and a bus which stops right out front. Plus there is street parking and several town lots nearby, free after 8:00pm. If you want to come early for dinner, there are plenty of good choices in walking distance on Harvard St and in Coolidge Corner.