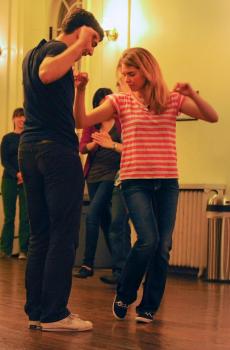 As our current session winds down, the new 6 week session is now up on the website. This will actually be our last session before Beantown and our last Sunday session until the fall! Sunday classes in Newton start on April 21 and Monday classes in Boston start on April 22.
Level 1 and Level 2 each have 7 or 8 different sessions that we cycle through, although they do tend to change over time. The classes are designed so that new students can join at the start of any new session.
Both locations include a class in Beginner Swing/Intro to Lindy Hop Level 1, appropriate for brand new dancers, those with some previous experience and continuing students. If you would like to work on building a solid foundation of dance skills, this will be an ideal class. Six count basics will be covered along with a variety of fun steps to build your repertoire and get you out on the dance floor!
Lindy Hop Level 2 is also offered in both locations. This class is aimed at more intermediate level Swing dancers and no prior Lindy Hop experience is required. Eight and six count basics will be mixed along with a variety of classic Lindy Hop, newer variations, and a focus on partnering, musicality, technique and style.
Also on Sundays we have a new class on Variations Aplenty! We'll take fundamental moves such as swing outs, underarm turn, Texas Tommy and passes, adding twists and turns to create something new and unexpected. Included will be both classic and new footwork variations for swing outs. If you like to work on rhythm variations and new ways to change up your Lindy Hop, this will be a great class for you! This class is aimed at intermediate to higher up Lindy Hop dancers and no partner is required.
We are always striving to bring new people into the dance community and classes are a great first step! Most of our new students come from recommendations and we really appreciate all of your help to keep our community growing and thriving! If you have any friends interested in getting into dancing, please pass on the info!
Registration is open. Check the website for more information.