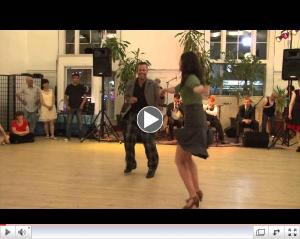 Last chance for discount prices for the Joel Plys & Dominique workshops on April 12-14, expiring this Wednesday, April 3! You do not need to do the full weekend as workshops are à la carte. A completed registration with payment must be received by the discount due date. Sending a check postmarked by April 3 will also qualify. It will still be possible to register after that date and at the door. The classes will all be held at Lower Falls Community Center in Newton, MA.
Complete workshop schedule and registration.
Dances for the weekend start with Friday night at Boston Swing Central with Shawn Hershey and the Fried Bananas. On Saturday will be our monthly Uptown Swing Dance at KI in Brookline featuring Baby Soda plus a dance performance with Joel & Dominique.
Dancers are coming from 5 states to join in. Looking forward to a fun weekend of classes and dances!