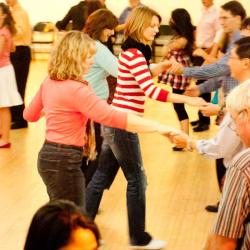 Happy October and another beautiful week of weather in the forecast. It makes the end of summer not so hard to take.
As fall marches on, it is exciting that there are so many wonderful dance opportunities to look forward to!
New classes are now up. It doesn't seem possible, but this will be the last session of 2013!
New classes in Beginner Swing/Intro to Lindy Hop Level 1 and Lindy Hop Level 2 are scheduled in Newton Lower Falls starting Sunday evenings on October 27 and in Boston, Monday evenings on October 28.
Also coming up, is a new class for intermediate to advanced Lindy Hoppers: "Stops" Routine/Fast Dancing. The "Stops" routine is a classic, known by Lindy Hoppers around the world. It was originally created when Frankie Manning took a series of "freezes" he had danced and realized they could be done with any song. The rest is history! After learning this fun routine, the class will focus on doing it faster and with Lindy Hop styling. It will be challenging, energetic and of course a ton of fun! It meets on Sundays in Newton.
Due to schedule conflicts this fall, the Sunday session will be only 4 weeks. (Mondays will be the usual 6 weeks.)
Both locations are conveniently accessible by car or T with free parking available. It will be possible to make up missed classes at the alternate location and it has been great to see students taking advantage of that.
Registration is open - Complete class information and registration.