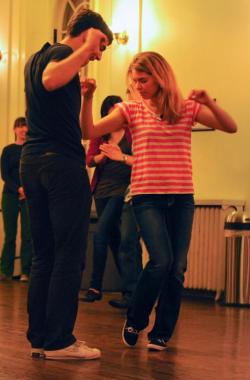 Thanks to everyone who came out to Uptown Swing on Saturday! The Toni Lynn Washington Band was wonderful as always and it was great to be back at the beautiful KI! Looking forward to the next one with the extra awesome Gordon Webster on November 30!
This is the last class session of 2013!
A new 4 week class session starts Sunday nights on October 27 in Newton Lower Falls. A new 6 week session starts on Monday nights on October 28 at Ruggles Church (near Fenway Park).
There are classes for all levels, no partner required.
Beginner Swing/Intro to Lindy Hop Level 1
Newton

&

 Boston
Lindy Hop Level 2
Newton

&

 Boston
"Stops" Routine/Fast Dancing
Newton
If you have been wanting to learn how to dance, now is an excellent time to start. For continuing students, each session brings something new.
If you are planning to attend any of these classes and have not already done so, it is very helpful if you would submit an on-line registration to speed up check-in. You can pay in advance through PayPal or at the first class by cash, check or credit card. Thanks!
Free parking available in both locations as well as near public transportation.